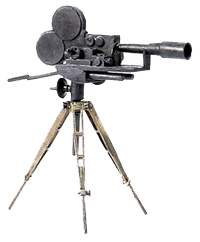 Garnering 10 nominations last week confirmed "Slumdog Millionaire"'s established status as the frontrunner for this year's Best Picture Oscar.  Unusually for a Best Picture winner, the film failed to nab any acting nominations.  Its high tally counts comes from seven nominations in the crafts fields.
I recently had the chance to speak to three of those below-the-line nominees: composer and songwriter A.R. Rahman, cinematographer Anthony Dod Mantle and film editor Chris Dickens.  All are first-time nominees and all must be considered in genuine contention for statuettes, if not favored to win.
Rahman, a self-proclaimed introvert, has already won Golden Globe and BFCA awards for his score, which has become massively popular.  Though very humble, it is clear he is relishing the opportunity to have his music exposed to such a wide audience.
"I was attracted to the film right away," he says.  "It is about modern India, young people and optimism.  There's a kind of urge to it.  It's not a laid-back score.  It needed something edgy and experimental to create interest in the whole thing."
Dickens also was attracted to the film right away, not only because of the story but because of the unique way it was to be told.  "Basically, the film was designed that way in the script," he says.  "Though there was always a doubt in my mind as to how it would work when you saw it.  There are lots of different scenes that the audience had to understand to get to know where they were with the story.  The intention was always to shoot in different formats and different styles.  I found that fascinating."
Mantle also notes that the film started with the script.  "Danny and I researched the slums together," he says.  "It's the foundation for the film – we had to get it right to tell this story."
In spite of the power of the story and the script, all three artists note how Danny Boyle firmly guided the project with his vision.
"He wants to try lots of things and try to push the boundaries a little bit," Dickens says.  "He had a vision of wanting the film to be very dense but also be quite fast like a bullet coming out at you.  That said, he's very collaborative.  We'd screen the film every two or three days.  I'd make mountains of notes and then we'd go through it again – he's very open to ideas."
Mantle says Boyle is very mindful of his audience when filming and wants to tell the story accordingly.  "A director like Lars Von Trier, who I have also worked with several times, is more obsessed about getting what he wants up on the screen," he says.
Mantle, like Dickens, also notes his director's openness to idea and willingness.  "Danny allows me to go out there and he'd support me," he says.  "If he'd been weaker or the producers had been stronger, we wouldn't be able to do what we wanted to do.  If you're honest with him, and prove to him you're thinking about the interest of the film, he's open to anything."
Rahman recalls an email Boyle sent with the screenplay attached.  We he saw a cut of the film, he asked Boyle if he could be the lone scorer on the project, as a number of the director's films have had multiple composers.
"I normally work very closely with directors," he says.  "I don't try to intimidate directors by saying, 'Please like the idea.'  Most of the projects I had worked on earlier are very reserved and Danny's friendliness helped with this project's change of pace."
The crafts artists nonetheless recall particular challenges they faced while making the movie:
"I was never sure about the length of the film," Dickens recalls.  "I'd never come across having to get that much time out after the first cut.  Because the film was potentially quite disjointed, it contained a lot of options.  It only really came together quite late.  We worked and worked and knew it wasn't quite right.  It didn't really start flowing until the last night."
Capturing the slums, and finding the technology to do that, was the biggest challenge from a photography perspective, Dod Mantle says.  "We needed to learn how to use a camera in a completely different way and get down to the world of the kids.  Then we had to run at 40 miles an hour.  Cinematography is really all about finding something that didn't exist.  The original plan was to shoot all the slums like that and impress on people's minds what it's like to be a kid."
Rahman had to not only write the score but also compose songs for the movie.  "I had to pull it off in three weeks," Rahman sys.  "'Jai Ho' means 'be victorious.'  It seemed so fitting for the end of the movie.  It's an Indian sentiment yet it's easy for a non-Indian person to say it."
While "Slumdog Millionaire" has been the most acclaimed effort that these artists have worked on, it is certainly not the first.  But acclaim seems to be second to their dedication to the craft.
"We have a team but it can be lonely," Deakins says.  "You live a film for about a year.  You have to be very patient, trying to interpret what the director, producers, writers say about the film.  It takes a while to get it out of your system.  You have to try hard to keep freshness as though every time you watch it, it's the first time.  For this film, it's much easier because it's so full of life.  I wanted to do it justice."
Rahman admits that music composition is lonely work.  "It's a blessing and a problem," he says.  "I'm an introvert mostly and it's great having the sort of freedom many other filmmakers don't have.  But it's so nice to finish a score, and spend a few days away from my room, with people."
Dickens says he does not feel underappreciated in the industry at all.  "With the public, I feel sometimes they don't understand difference and overlap between the editor and the director," he says.  "But I'm very happy being behind the scenes and would not want to change that."
Cinematographers are "destined to remain out of the public view," Mantle says.  "But you can think a little bit more about the vocation and better understand the camera – even though I always come to cinematography through stills and storytelling and not technology.  The alternative is failure to suppress a massive ego.  There's a need to be comparatively invisible and a need to build a bridge between directors and producers.  The film should and must be bigger than all our egos put together."
At the end of the day, however, all three artists are stunned and overwhelmed with the success of the film.  "I didn't have any expectations on this movie," Rahman says.  "I'm going to remember being exposed to the Western audience and having a breakthrough with the type of music I love and feels personal to me."
Says Mantle, "We never expected this to happen when we made the movie.  But it was an unforgettable experience to be part of a project where so much international energy takes us to the other side of the world.  It took us to somewhere we'd never been before, and a part of our planet where things are fundamentally simple and nowhere near as complex as we suggest they are.
Dickens says "Slumdog" changed his approach to his job.  "I feel enormous responsibility to material that's so good and about something interesting and profound," he says, "and I felt that more with this than with other projects.  I also learned to be open to everything and take risks with Danny.  I think that's what I'll take from it in the future."
Mantle found one of the reviews to be "so accurate when it described the film as 'a hymn to life.'  It's an anthem to the glorious youth of our planet.  Even if it didn't have the success it did, that's what the experience has done to me.  I may not be holding statues, but dangerous decisions, scary, brave decisions came to life.  That's what cinematography should do."
I would not be surprised at all be if Mantle – and Dickens and Rahman – are holding statutes next month.  Either way, the success of their collaboration with Danny Boyle on this year's Oscar frontrunner has deservedly brought them to the forefront of their fields.