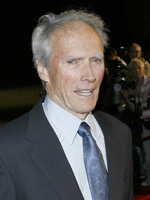 So Clint Eastwood arrived in town tonight without all the pizazz you might have expected, as I reported from this evening's Arlington Theatre event.  But inside the place was bananas.  Every single seat in the theater was filled, many of the locals vocalizing their shock on the way down the aisles.  "I've never seen it this packed before," many of them said as they found a place to settle in and behold the career the festival was honoring.
Moderator Leonard Maltin seemed to bite off a little bit more than he could chew.  Seriously, an hour and a half in and we were just getting to 1971.  I figured the 1980s would be a blur and indeed they were — Who wants to remember "Heartbreak Ridge" and "Firefox?" — but I would have liked some discussion on "Bird," maybe, or "Pale Rider."  But Maltin warned at the top that if he didn't get to your favorite film, please understand.  We're talking about six decades here.
Early in the discussion Maltin spent a lot of time picking Eastwood's brain on his early career — a contract player at Universal, roaming around the lot soaking up what information he could, getting the gig on television's "Rawhide" and, of course, Sergio Leone's spaghetti Westerns that didn't find release in the states until rights were cleared up regarding Akira Kurosawa's "Yojimbo."  On the whole it was one of those kiss, kiss sessions, but the crowd was pumped.
Every film that might be mentioned briefly in passing seemed to find this pocket of applause or that.  The "Dirty Harry" stuff was an obvious favorite (of course we were treated to the infamous "I gots ta know" sequence), but "Gran Torino" really brought the house down, especially the old guy vs. the homies scene that might have been Eastwood's Oscar clip had the performance been nominated a week ago.
I was mostly interested — of course — in Eastwood's comments on the Western.  He has always said that if he ever took a final stab at the genre, "Unforgiven" would be it.  But I was encouraged by how reluctant he seemed to be so definitive tonight.  "If something came along that was equally brilliant but took the genre in a new direction, I'd be willing to do it again," he said.
He also talked briefly about his upcoming Nelson Mandella biopic starring Morgan Freeman and Matt Damon (nothing beyond what you know), though it doesn't seem to be called (or based on) "The Human Factor."  The current title is merely "Mandela," but I imagine that will change.  He did, however, mention John Carlin's "Playing the Enemy" as a volume that dealt considerably with the events he'll be depicting in the film.  Maybe the script will end up some variation or even an adaptation of that material.
Sean Penn was on hand to present the Modern Master Award to Eastwood (the festival's highest honor).  Penn himself was a recipient in 2003.  His speech was absolutely hilarious, recounting the birth of an 11 pound Eastwood, the faux recording of his first words (a low growl reminiscent of his "Torino" role) and so on.  I was mostly wondering why Penn's hair was combed in the most massive wave of a part I've seen this side of Conan O'Brien, especially since a few weeks ago at the Critics' Choice Awards he had his typical slicked back look going on.
Anyway, the party at Cafe Luck down the street was a mad house.  Eastwood came in, did his duty posing for photographers with the piranhas, spoke to old and new friends and was whisked up the stairs to the VIP section that I didn't dare enter given the equally crowded atmosphere up there.  A few drinks in a corner with festival director Roger Durling was good enough for me.
The festival really seems to be winding down, even though two of the biggest gets of the week are here over the weekend.  David Fincher will be here tomorrow night for a career retrospective, but I'll be shooting down to L.A. for the Scripter Awards downtown at USC, then back up here on Saturday for the presentation of the American Riviera Award to Mickey Rourke.  A very special guest will be presenting that award and I'm pretty stoked at his willingness to work hard toward Rourke's Oscar hopes this season, but I'll leave it at that for now.