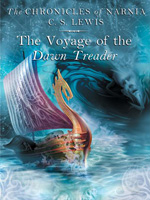 I am actually a big fan of the "Chronicles of Narnia" franchise that Disney and Walden Media have been responsible for over the past few years.  So when the news came a few weeks ago that the brand had effectively been rubbed out because of a dispute between the two companies, I was a little bummed.
Patrick Goldstein did a nice job at the time of summing the fallout up:
According to multiple sources, the once-close relationship between Disney and Walden began to unravel when, after the first "Narnia" film cleaned up at the box office, Anschutz essentially put a gun to Disney's head and demanded that the studio renegotiate its deal with Walden. Anschutz insisted that Disney either gave back a sizable chunk of the studio's lucrative distribution fee or Anschutz would distribute the "Narnia" series on his own. Believing the franchise was too good to give up, Disney reluctantly changed the terms of its Walden deal, but the renegotiation poisoned relations between the two behemoths. When the second film faltered, there was so little good will left over that Disney had far less qualms about cutting its ties with the franchise.
Well news came earlier this week (I somehow missed it) that 20th Century Fox has taken up the reigns of distributor for the franchise, breathing wind into the sails of the third installment: "The Voyage of the Dawn Treader."
Here's a bit from Michael Fleming and Tatiana Siegel's Variety story:
Fox, which was entitled to first crack at "The Chronicles of Narnia: Voyage of the Dawn Treader" after Disney dropped out because of the shared Fox Walden marketing and distribution label, has made a commitment to develop the project. The two sides are still working out budget and script issues, but the hope is to shoot the film at the end of summer for a holiday 2010 release through the Fox Walden label.
This graph also caught my eye:
After budget and script concerns are settled, Fox and Walden are expected to greenlight the film. The intention is to move the production away from Mexico, where, ironically, it was going to be shot at the Fox-owned Baja facility called Rosarito used for "Titanic" and "Master and Commander." "Dawn Treader" will instead likely shoot in Australia because of concerns for the drug violence and kidnappings that are taking place near Baja.
Interesting. Anyway, here's to the continued creative success of the franchise (and a better choice for release date next time around).