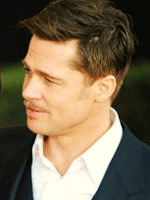 Today's Telegraph carries an interview with Brad Pitt that somehow manages to be simultaneously personal, honest and thoroughly unilluminating. There's plenty of contented musing on fatherhood and Angelina Jolie if that's your cup of tea, but I couldn't help being somewhat disappointed by the banality of his take on "The Curious Case of Benjamin Button":
"I walked away realising that time is short," he says, talking on a sound stage at the Warner Bros studios in Burbank, California. "I don't know if I have a day or 10 days or 10 years or 40 years. Am I halfway or am I close to the end? I don't know, so I have to make sure I don't waste those moments in any kind of pettiness or bitterness or laziness, and that I surround myself with the people who are most important to me."
Further on, he lets loose with the stunning insight that the film is "about looking back on the significant moments in your life." Well, I'll be. I could have sworn Eric Roth had more than that in mind when he adapted F. Scott Fitzgerald's story, but what do I know?
I've always liked Brad Pitt. A lot. He's a strong actor — even if "Button" is a million miles from his best work on screen — and a smart, funny, charismatic celebrity. Or he used to be, at least. Why then, throughout the whole "Button" publicity run, has he restricted himself to such bland, humour-starved soundbites, both in print and on camera?
It's clear he's in a happy place personally right now, and that's great for him. But am I the only one tiring of the relentless earnestness, and longing for a bit of movie-star dash from the man? Some are apparently counting on Pitt's presence to "save" the Oscar telecast, but as long as he keeps following this script, I'd look elsewhere.