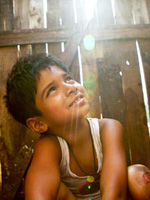 Everyone was so quick to pounce on the "Slumdog Millionaire" smear pieces of the week, yet this Sandy Cohen AP piece as been sitting there, waiting for similar obsessive circulation for 31 whole minutes.
Here's a taste:
The makers of "Slumdog Millionaire" have done more for the film's child stars than their parents ever could, the father of one young actress said.

Rafiq Qureshi, whose 7-year-old daughter, Rubina, appears in the film, said that the filmmakers enrolled his daughter in school and "are taking complete care of my child."

"Whatever a parent could have done, they have done much more than that," he said during an interview with AP Television in Mumbai, India on Wednesday.
The rest here. Let's move on, shall we? Whoever did the whispering, it was a valiant effort.