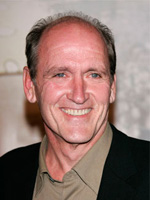 Unfortunately, "Happy-Go-Lucky" star couldn't make it to tonight's presentation of the Virtuoso Awards at the Lobero Theatre due to surgery recovery, but Viola Davis, Richard Jenkins, Rosemarie DeWitt, Melissa Leo and Michael Shannon were on hand to talk their roles in five of the most critically acclaimed films of the year.  James Cromwell did the honor of presentation.
It's a shame DeWitt was the only one on stage lacking (criminally) an Oscar nomination, but moderator Roger Durling kept the conversation away from awards as much as he could.
A considerably amount of the discussion was spent on the nature of these actors' careers, floating between the big screen, television and theater with a particular ease.  Many of the Virtuosos swept the comment aside with the usual "we go where the work takes us" rhetoric, which is fine, but Davis made a compelling comment regarding the state of the profession.
"When you think about actors, you think about Brad Pitt, Angelina Jolie," she said.  "But most of them look just like us here on stage."  The indication, of course, is the middle class actor and how often he or she isn't given the proper credit, be it on television, on stage or, certainly, on the screen.
"Please, go to New York," DeWitt said.  "See a play.  Some of the greatest actors in the world are working on stage," but their names aren't well-known.  It's an interesting topic with the SAG dispute of late, which finds middle class actors at the forefront of a fight for credit.  Durling, of course, didn't pursue that line of questioning.
Jenkins's dry sensibilities afforded its fair share of guffaws from the crowd.  "I'm beginning to understand your sense of humor," a timid Durling noted.  "But you intimidate me!"
Shannon, meanwhile, really brought the house down once the crowd finally warmed up to him.  This is a guy you really need to feel out for a minute or two, but once you're in step you're right there with him.  He's one of the funniest guys in the race this year, but you wouldn't know it because he hasn't shown up on television interviews for whatever reason.  But in Q&A after Q&A, he's got a subdued thing going on that makes the jokes that much funnier when they come.  I always look forward to talking with him, because the conversation invariably moves to some mundane refreshingly removed from the movie fray.
Anyway, back to his sense of humor.  Take the long story he told about a recent Sundance screening, for instance.  Upon being asked, rather broadly, what it felt like to suddenly find himself thrust into the spotlight, he recounted a screening of "Bronson" in Park City last week.  It's the story of London's most infamous inmate, Charles Bronson (born Michael Peterson), the most violent prisoner in British history and the film reportedly presents violence as a for of art and self-expression.  "All I could think of is I'm glad I'm not that guy," Shannon said slowly.  "I'm glad I'm this guy."
Davis made a similar comment, stating "I'll take it" twice regarding her accolades and Oscar nomination for a 12-minute performance in "Doubt."  Funnily enough, Davis admitted to thinking her performance was poor when she first saw the film and seemed stunned at the attention.  But she'll take it.
Finally, Leo — rather stunningly, given the public setting — expressed some irritation at the fact that "Frozen River" has not yet been screened in and around the Plattsburgh, New York filming location for the numerous actors and, presumably, crew that had a part in the production.  If that's true, it's rather shocking no one at Sony Classics has made that PR move yet.  To have their lead actress nominee out making statements like this at an awards presentation — not good.  But props to Leo for doing what she can to get things done.
I didn't manage to make it from Virtuoso to Virtuoso at the after-party.  In fact, I hunkered down with Shannon for a drink and mainly talked about the unfortunate reception "Revolutionary Road" has received, both from certain critics and certainly the Academy (his nomination notwithstanding).  "Sam [Mendes] seems to keep taking hits on the chin for this film," he said.  "I don't get it."
We also talked about the cinematography in the film and my top 10 shots of the year piece from earlier this month.  I mentioned the shot I chose but how taken I was by the final shot of the film, too (depicting a rather brilliant beat in the screenplay as actor Richard Easton's Howard Givings character turns down his hearing aid to drown out his wife's chatter).  "There are like eight shots in that film that should be hung in a museum," Shannon said of Roger Deakins's shockingly un-nominated work on the film.  "I can't believe he didn't get a nomination."
Well, my theory is without "The Reader" in the mix, he would have made it.  Just one more screwjob from Stephen Daldry's film, but I won't go there for now.