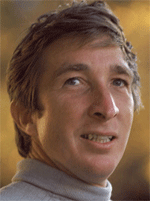 This may be a film site, but I cannot let the passing of John Updike go without comment. While he contributed little directly to the artform — and the two feature-length attempts at bringing his work to the screen were, to say the least, regrettable — but it's impossible to underestimate his level of influence across media.
He may not have been the very first writer to appreciate suburban America for the seethingly dramatic storytelling space that it is, to investigate its paradoxical balance of suffocating community spirit and equally oppressive loneliness, but he became indisputably its most precise and prolific chronicler — while in his "Rabbit" quartet, he created arguably the most complete, searching study of shifting American social mores in the last half-century. Contemporary writers such as Tom Perrotta and Jonathan Franzen are as indebted to his legacy as filmmakers like Todd Solondz or Alexander Payne.
We all have our heroes, and Updike is mine. In a way, it's pointless writing obituaries for figures like him — though the Guardian takes an excellent stab — because his own work speaks more eloquently for itself than anyone else can. Indeed, it was Updike himself who, in the foreword to his essential 2003 "Early Stories" compilation (buy it if you don't yet have it), best described his achievement as a writer:
After I gave up cigarettes, I smoked nickel cigarillos to allay my nervousness at the majesty of my calling and the intricacy of my craft; the empty boxes, with their comforting image of another writer, Robert Burns, piled up. Not only were the boxes useful for storing little things like foreign coins and cufflinks, but the caustic aura of cigars discouraged visitors. I felt that I was packaging something as delicately pervasive as smoke, one box after another, in that room, where my only duty was to describe reality as it had come to me — to give the mundane its beautiful due.