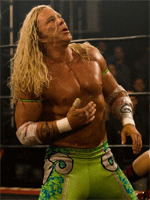 Roger Ebert has yet to weigh in with his formal Oscar predictions, but for now, he's trying something a little different — selecting winners purely on the basis of "elevation," which is to say the nominees that have had the most profound emotional impact on him. (He offers an in-depth explanation of this rationale here.)
He has run through three categories so far, and using his criteria, I am hard-pressed to disagree with any of them. Melissa Leo — whose performance is, I think, in a different league to those of her fellow nominees — is Ebert's personal favourite in the Best Actress category; he aptly describes her work as "close to the bone, closer to the soul."
Meanwhile, he celebrates "Milk" in the Best Picture category, with Gus Van Sant skilful use of existing footage of the candlelit Castro Street parade in Harvey Milk's honour the clear emotional tipping point for him. I must concur here, even if "Milk" as a whole isn't my favourite of the nominees. (I can't say I was as moved by "Slumdog Millionaire" as I was grandly entertained.)
However, I particularly love Ebert's verdict in the Best Actor race, as he offers a point-on appreciation of what makes Mickey Rourke's performance such a singular achievement:
("The Wrestler") is his comeback on his own terms, as a full-force, heedless, passionate physical actor, with strong undercurrents of tenderness, loneliness, and need. He did a lot of his own wrestling in the film, including a scene where he deliberately cuts himself, and he was painfully honest in the scenes with women. What you see is a man with what he knows is the role of his lifetime, and willing (I am convinced) to die for it.
Bingo. I've been struggling for a while to put my finger on exactly why I am that much more affected by Rourke's performance than I am by Sean Penn's impeccable inhabitation of Harvey Milk, but Ebert nails it. There is so much visibly at stake in the former; it's about as autobiographical as an ostensibly fictitious performance can be.