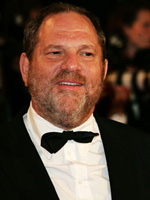 For all his marketing and campaigning genius, Harvey Weinstein's tactics have become — well, have been — a bit thuggish. In Peter Biskind's extraordinary book "Down and Dirty Pictures," a stunning look at the independent film world in the late 1980s and all through the 1990s, we are made privy to many of Harvey's tantrums, eyewitness accounts of his bullying behavior, and crazy belief that because he is rich, he can do whatever he wants.  He can always buy his way out.
Is there anyone left out there who truly believes that "Shakespeare in Love," a lovely film, was actually better than "Saving Private Ryan?" Somehow Weinstein convinced the Academy it was, so the best directed, best edited, best shot and best sounding film, lost to a beautifully written work that will be forgotten in time, if it has not been forgotten already.
Weinstein is a genius at getting his films Academy Award nominations, and some have said he will promise the artists as much when he buys the film or agrees to finance the work. He took Billy Bob Thornton from relative obscurity to an Oscar win for writing "Sling Blade."  Who did Thornton defeat that year?  No less than the great Arthur Miller for "The Crucible!"
I had hoped that when Disney dismissed Weinstein and brother Bob from Miramax (a company they founded) that perhaps he had learned something. It seems The Weinstein Company will continue the legacy of Miramax during the Oscar season, however.
Somehow Harvey got "The Reader" five Oscar nods, including Best Picture, and he managed to sway the Academy to vote for Kate Winslet as a lead actress rather than supporting. Her performance in "Revolutionary Road" might be the best of her career; it is certainly the best performance by an actress I have seen this year.  How did the Academy make this blunder?  What's more, the actress has slid from a cake-walk win in supporting to a much more contested category in lead.  Might she miss altogether?
The SAG Awards may be a better harbinger of things to come than we realize this year. Meryl Streep is beloved by the film world for her acting genius, her humility and for keeping her life in order far from the madness of Hollywood. They have not honored her since "Sophie's Choice" back in 1982, though she has been nominated more than any other actor in the history of the Academy.
Streep is splendid in "Doubt" and having won the SAG award, seems a wee bit closer to the Oscar than Kate. The Academy is acutely aware of the years between Streep's last Oscar win, and has certainly been looking for a chance to honor the greatest living actress once more. Good old Harvey, he might have just given them that chance.  Perhaps if she does win she should thank Harvey in her speech.