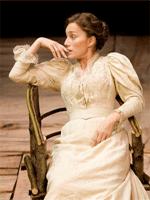 Jeff Wells has captured some of last night's Kristin Scott Thomas Q&A at the Santa Barbara festival, and it's well worth a look — as I found when I interviewed her back in December, she's immensely forthright, considered and witty in her discussion of her craft. Truly one of the best in the game.
Wells also offers some tidbits from an informal chat he enjoyed with Scott Thomas afterwards, the most intriguing of which is that "plans are afoot to shoot a film version of 'The Seagull' with the same Broadway cast."
If you caught the Royal Court revival of Chekhov's play in either of its London or New York incarnations, chances are you're as excited by that news as I am. If you didn't, you should be excited anyway.
Scott Thomas' interpretation of Arkadina was possibly the greatest stage performance I have ever seen, and the prospect of it being immortalised on film, with the likes of Carey Mulligan (who killed as Nina in the same production) and Peter Sarsgaard strutting their stuff too, is tantalising indeed. (The production I saw had Chiwetel Ejiofor in place of Sarsgaard — hardly a bad tradeoff.)
If it gets done, and done right, on screen, Scott Thomas could just nab the second Oscar nomination that so unfairly eluded her this year for her staggering work in "I've Loved You So Long." Here's hoping. Check out the interview here.