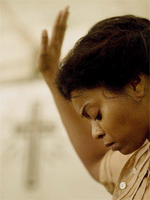 Stu Van Airsdale is cheekily posing a scenario whereby "The Curious Case of Benjamin Button" converts precisely zero of its 13 nominations into victory on Oscar night.
It's not really worth picking holes in his argument — though we could start with the fact that "Button" is nominated for Sound Mixing rather than Sound Editing, or that he doesn't seem to consider "Slumdog" the frontrunner for Film Editing — because the article is less interesting for its specifics than for how it taps into the general indifference that "Button" seems to be facing. Has a film with such an impressive Oscar tally ever looked a less formidable competitor going into the race?
On nomination day, AwardsDaily posted a handy list of the ten previous films that have received 13 or 14 nods. Seven of them won Best Picture. Two of them ("Mary Poppins" and "Who's Afraid of Virginia Woolf?") each took a healthy haul of five awards apiece, major acting trophies among them. The last, "The Lord of the Rings: The Fellowship of the Ring," was limited to technical victories, though in an odd year, with splintered support for "Moulin Rouge!" and eventual champ "A Beautiful Mind," it wasn't a complete non-starter — and in any case, everyone knew there was more to come.
Right now, I side with Kris in predicting a scant three trophies for "Button," in the Art Direction, Makeup and Visual Effects field. (Unpredictably scattered as the tech categories have been in recent years, I'd be very surprised if it missed in the latter two categories, at the very least.) So, is the film set to reap an all-time low from its nomination tally? Or are we underestimating it?
As it stands, I'm starting to wonder if Taraji P. Henson may have more of a shot in the comparatively open Best Supporting Actress field than I thought earlier. Last year, Tilda Swinton eked out a victory in the same category after "Michael Clayton" fans realized she represented the film's only shot at a major award. If voters don't want to humiliate the season's biggest, most-nominated film, could Henson be a similar beneficiary? Just a thought.