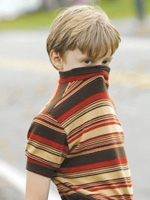 And a few more…
"THREE MONKEYS" (**1/2)
I was left scratching my head yesterday afternoon after a screening of Nuri Bilge Ceylan's "Three Monkeys."  I can't for the life of me comprehend what all of the Cannes fuss was about.  It's a solid exploration of mood and atmosphere, to say the least.  And there are some penetrating performances.  But…?
The bleakness of the narrative likely appealed to festival jury members looking to reward a filmmaker for "going there," but there's a big "So what?" residue to the film and its themes.  The story, in a nutshell, revolves around a family playing blind, deaf and dumb (hence the title) to a time of hardship, and for that, I give it some respect.  There aren't many films willing to pull back the veil of complacency that settles into families in crisis.
The cinematography is subdued, and striking as a result.  And like I said, the performances — particularly from Yavuz Bingol and Rifat Sungar — are superlative.  But the whole comes up short of the sum of the film's parts.  I've been impressed by Ceylan's work so far, but I'm sure he's got something better, more akin to "Distant" inside him somewhere, so I'll wait for it.
"C'EST PAS MOI, JE LE JURE! (IT'S NOT ME, I SWEAR!)" (***)
Philippe Falardeau's charming look at the antics of a youthful rebel was nicely received in his home country at last year's Toronto International Film Festival.  I remembered having a passing interest in the film and found a hole in the schedule for a brief look at the Metro Theater yesterday, and I'm glad I did.
"C'est pas mou, je le jure!" is a touching Quebec-set odyssey in the vein of Hal Ashby cinema.  It's colored in the hues of the 1960s and packs a laugh-out-loud punch that went over with the crowd like gangbusters.  It's a shame it's not up for the audience award, because I'd expect fives all around.
The film's lead performance is a captivating display from youngster Antoine L'Écuyer.  I don't know how old he is, but he's playing a 10-year-old here, and he has the acting chops and the comedic talent to put the best of child actors to shame.  He's matched by co-star Catherine Faucher, bringing her own talents to light with healthy strokes of drama when it counts most.  A cute diversion, even if it doesn't have the thematic depth it thinks it does.
"WAR AGAINST THE WEAK" (***)
Justin Strawhand's adaptation of journalist Edwin Black's sobering investigation of American eugenics — the country's honest-to-God attempt at sterilizing the population into a master race — isn't the penetrating piece of cinema it might have been.  But it moves at a rather purposeful pace with lulls here and there to catch you up to your own astonishment, and I responded ti it for that.
The eerie indications, of course, are the seeds planted in Adolf Hitler's own Godless quest in Europe by our actions here in the states.  Like all evils (I say in jest), American eugenics was proliferated by corporate philanthropies.  "The main culprits," reads the book's official site, "were the Carnegie Institution, the Rockefeller Foundation and the Harriman railroad fortune," massive organizations all.
But the film isn't the cinematic example it might have been.  Informative to be sure, though the narrator's voice has a high-pitched quality that seems to go against the grain of the film, I always recoil at such elementary docs.  There's something to be said for the straight-forward, but it will lack the power of creativity 10 times out of 10.