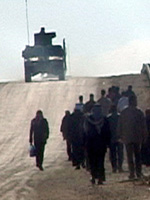 Something of a slow day today at the festival — well, I purposely put the breaks on in favor of some quality time with you guys throughout the day and to put my feet up for a spell at the ole' homestead.
Anyway, I was really taken with Mark Manning's "The Road to Fallujah," an Iraq war documentary that played at Sundance last week and had its California debut this evening at the Arlington Theatre.  There was a nice turn-out, largely because Manning is a local (the first Santa Barbaran, in fact, to bring a film to Park City and then back the hometown fest).  But what I expected to be a derivative analysis of "what we did wrong" slowly revaled itself as perhaps one of the very best docs on the conflict we've seen yet.
A former oil platform worker who up and decided one day to take a documentary course and shoot over to the middle of hell and find out what was going on, Manning only commits one sin that tends to irk me in non-fiction filmmaking: he put himself in the film.  If this is done to dramatically impacting effect (like in, say, "Dear Zachary"), it's generally forgiveable at the start.  But it actually didn't get to me as the film went on because the portrait Manning paints is immediate, penetrating and emotional.
In essence, the film is a "what do the Iraqi people do now?" think-piece, littered with depictions of collateral damage and, of course, an extended look at the build-up to the Battle for Fallujah, the horrors of war during it, and the repercussions both Iraq and the U.S. are left with as a result.  Manning makes great use of his string of talking head experts, grabbing the key lines at the right times.  It's amazing all this came from a night class education.
One of the big eye-brow-raising quips comes maybe three-quarters into the film when the old "Iraq is a breeding ground for terrorists" debate comes up.  "Does anyone still believe this," an expert asks.  "If U.S. troops pulled out of Iraq today, guaranteed, they would slaughter every single member of al-Qaida.  But right now, they're serving a purpose: they're killing Americans."
At the beginnging of the screening, Manning came on stage for the usual introduction.  But he summed up his film's thesis nicely at the top.  "I don't think we're going to have a chance to move forward and pull out of there until we first take a long, honest look at what happened," he said.
It's a great film that really resonates.  I'm glad I opted out of the big Kristin Scott Thomas tribute over at the Lobero in order to see it, but I did hustle down State Street in time to see Roger Durling come on stage and gush over Thomas's two major performances this year (on stage in "The Seagull" and, of course, on screen in "I've Loved You So Long").  Ralph Fiennes then came out to present her with the Cinema Vanguard Award, giving one of his brilliantly worded trademark speeches that just melted the actress's heart — you could tell.
Briefly recounting their first day of pre-production work on Anthony Minghella's "The English Patient," for which both were nominated for Academy Awards, Fiennes reminisced: "She asked me what I had been up to.  I had been doing 'Hamlet,' I told her.  And then, with a heavy does of irony she said to me, 'Oh…real acting.'  I had been put in my place…and was even more turned on."
The after-party was not a big to-do or anything.  An intimate gathering over at the Biltmore, some wine, some sparkling water, a couple of Oscar bloggers discussing the rather surprising 'Slumdog' victory in the SAG ensemble category…I won't bore you with the particulars.  But I'm very much looking forward to tomorrow night's Virtuosos event honoring actors Michael Shannon, Richard Jenkins, Rosemarie DeWitt (with whom I'm uncontrollably in love), Viola Davis, Melissa Leo and Sally Hawkins.  Should be a grand time.