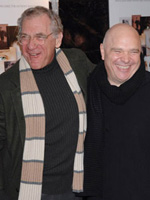 I'm sure the Academy will pat itself on the back for having the courage to ignore its own specifications that only three producers be credited for the Best Picture nominations, but the fact remains, this is and has been a stupid, troublesome rule, far too conservative for its own good.  We all remember the unfortunate case of "Little Miss Sunshine" two years ago, but if I were Albert Berger and Ron Yerxa, I'd be calling foul.
Here's indieWIRE's Peter Knegt on the "Reader" news of the day:
Producer credits for Academy Award Best Picture nominee "The Reader" have been determined by the Producers Branch Executive Committee of the Academy of Motion Picture Arts and Sciences. The official nominees for the film are Anthony Minghella, Sydney Pollack, Donna Gigliotti and Redmond Morris.

Because four producers were listed on the credits form submitted for Oscar consideration and Academy rules allow for only three producers – except in "a rare and extraordinary circumstance" – to be nominated and potentially receive Oscar statuettes, a meeting of the executive committee was necessary.
"Rare and extraordinary."  Just another example of AMPAS allowing for random subjectivity to enter the picture, as we've seen in the music branch over and over, for instance.
The point, however, is that it's great to see Pollack and Minghella get the notice they deserve.  When I first saw the film back in November, I mentioned that there were "echoes of [Minghella's] work" throughout the film and that Daldry was perhaps "the only filmmaker with the right doses of prestige and dramatic flavor to take up Minghella's mantle."  Looking back, I should have mentioned Pollack's influence as well.
I just hope Harvey Weinstein doesn't milk these credits for all their worth.  We all know the stories about that supposed death-bed visit, pleading with Pollack to give his blessing on a 2008 release for the film…