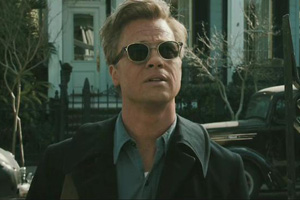 The nominations and all their ghastly reality are behind us.  The first two major guilds have spoken.  "Slumdog Millionaire" continues a long, slow (too slow for Searchlight) march toward Oscar, and ironically enough, the only film to win two awards at last night's SAG ceremony was the one a lot of people were pissed got the shaft on Thursday.
Such is the season.
Phase two is a different game altogether.  Everyone has renewed life.  "Frost/Nixon" and "The Reader" are going to be happy to be there, while Focus and Paramount really think "Slumdog"'s perch isn't as water-tight as it could be.  Then again, that SAG ensemble victory had to burst one or two of thsoe balloons keeping their spirits afloat.
The races of interest to me are lead actor, where a truly deserving Mickey Rourke goes toe-to-toe with an inarguable Sean Penn (maybe a fight to both their deaths as Frank Langella tip-toes past them and nabs the big prize?) and Best Supporting Actress, suddenly there for the taking as Kate Winslet has vacated the field in favor of dashing the hopes of the leading ladies who were all set to duke it out.
Could Penelope Cruz (so dashing and sweet here in Santa Barbara last night) suddenly be the favorite once more?  Or is this just the moment Viola Davis has been waiting for?  Better yet, could Taraji P. Henson, probably the biggest charmer of the bunch, switch ont he after-burners and leave everyone in the dust?
Harvey Weinstein will be busy trying to extinguish that pesky film editing rule (that no film has won Best Pic without a nomination for editing since — anybody? — "Ordinary People" in 1980).  Ironic, since the proliferation of that "rule" in the media stems from a former member of Weinstein's publicity flock who works hand-in-hand with the producer who took his film off "The Reader" in the first place.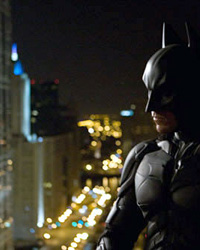 "The Dark Knight"'s eight nominations could yield just a single win, Heath Ledger's inevitable (damn well better be inevitable) victory for Best Supporting Actor, or perhaps two if the Academy responds to Wally Pfister's photography.
I'm hopping off the sound bandwagon in favor of "WALL-E"'s chances as of late, but with one or both, the tally could be three or four for the Bat, approaching the eventual tally the night's biggest winners, "Slumdog" and "The Curious Case of Benjamin Button" will pull in.
And what will that say?
"The Reader," for all it's "passion" to make it into contention (since no one wants to think the nominations were clearly a vote AGAINST "The Dark Knight" more so than a vote FOR whichever film came in #5), is likely to walk away with a single win.  And is it even arguable that said win will result more from the always-a-bridesmaid nature of the contender than the actual role and/or performance?
"Frost/Nixon," unless Frank Langella can stun in the lead actor field (certainly possible), will take nothing.  My guess is "WALL-E" takes Best Original Screenplay, leaving Sean Penn as the "Milk"'s only hope for a victory.  But if Rourke shines, that could leave the film with nothing.
Funny how that works out, no?  And speaking of "WALL-E," the same thing applies.  I see anywhere from three to five wins coming, maybe even a clean sweep if the membership gets froggy and goes for Thomas Newman's score (giving him his first Oscar ever).
But keep on telling yourself the rest of the Best Picture field was really the source of the membership's "passion."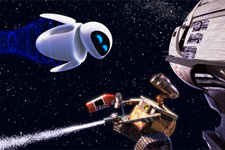 The race is all but over in the minds of most of us, though.  Bring on 2009.  Let's see Michael Mann digging into the 1930s, together with Dante Spinotti once again.  Let's see what Peter Jackson has to offer in the smaller, more intimate realm 15 years after "Heavenly Creatures."  Show us you've still got it Marty.  Wow us once again, Mr. Cameron.  And prove me right, Mr. Greengrass, that you're the most compelling filmmaker of your generation.
Let's get on with it.

Main Category Charts
Technical Category Charts
The Contenders
Oscar Prediction Archives