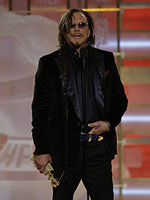 Well this is an interesting bit of news, from London's Daily Telegraph newspaper.  Here's Matthew Moore's scoopy lede:
Rourke's performance in the critically-acclaimed film may have earned him the much-coveted best actor nomination but he still hasn't watched the final cut.

"I don't watch anything until three, four, five years go by," he said in an interview.

"I see myself every day in the mirror when I'm shaving. I don't get anything from it."

All these ads asking us to "witness the resurrection of Mickey Rourke" and Rourke himself hasn't even witnessed it.  I guess he lived it after all.
I have to say, as happy as I am with Sean Penn being in the mix for his finest work to date, I am four-square behind Rourke this year.  The SAG had never recognized Penn's work, so maybe last night was indicative of that, but I still hold out hope the Academy at large will recognize this as the earth-shattering work of performance art that it is.
Rourke will be up here in Santa Barbara Saturday night to accept the Riviera Award, following a Q&A with Envelope contributor Pete Hammond.  I'm looking forward to talking with him once more, because as it stands, he's still my favorite interview from 2008.