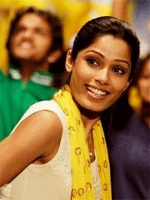 As I anticipated, "Slumdog Millionaire" walked off with the Producers Guild of America Award last night, confirming its status as the unstoppable underdog-turned-juggernaut of this year's Oscar race.
It's highly significant that Danny Boyle's film managed to claim this gong, in particular; as Kris pointed out yesterday, of all voting bodies, it's the PGA that might have had the most reservations about the film. A foreign runaway production from a relatively green producer, it's not the kind of film they tend to reward — particularly against the box-office heft of a film like "The Dark Knight," or the industry popularity of "Benjamin Button"'s production team.
The fact that "Slumdog" overcame such potential obstacles is indicative of the across-the-board affection for this film in the industry; it's a film that voters love as much as they admire.
So I'm interested to see how it performs at tonight's Screen Actors Guild Awards – another ceremony where the film has a number of disadvantages going in, given that it has a largely unknown, untested cast, and is less an actors' piece than a director's accomplishment. Technically, it has two shots at glory tonight, but since Dev Patel hasn't a snowball's chance of beating Heath Ledger in the Best Supporting Actor race, all its hopes rest on SAG's top honour, the Best Performance by a Cast award.
Many pundits are predicting "Slumdog" to go home empty-handed tonight, and it's easy to see why. "Doubt," which has the most nominations of any contender, has the kind of capital-A Acting from an esteemed group of thesps that could be catnip to voting actors, while "Milk" (Kris' own bet) has both a powerhouse star turn and the kind of sterling ensemble work they like to reward.
But I wonder. Though SAG doesn't always treat its top prize as a Best Picture equivalent — "Gosford Park" and "Sideways" are examples of films that triumphed principally on the strengths of their casts, despite minimal Oscar momentum – the fact remains that this is essentially SAG's only chance to reward the most beloved film of the season. While it's arguably the least "actor-y" film in contention, I suspect that, as when the Simon Beaufoy-penned "The Full Monty" upset here in 1997, the voters are going to let their hearts overrule their actorly instincts.
(More thoughts, and my SAG predictions, after the cut.)
Elsewhere, like Kris, I'm finding it difficult to call everything but Ledger's inevitable win. Best Supporting Actress looks like the next clearest race: with voting having closed too late for SAG to be confused by Oscar's category switch, Kate Winslet had the most momentum going in. Even before Thursday's shock announcement, the Globes and the Critics' Choice Awards made it clear that "The Reader" was overtaking "Revolutionary Road" as her stronger pony, and I expect SAG voters got the message. That said, I wouldn't be surprised to see a victory for Penelope Cruz, the race's initial favourite, or Viola Davis, the kind of hard-working 'actor's actor' that SAG frequently like to reward.
That last-named factor is also tempting me to go crazy in the Best Actress race, which has the unusual distinction of being both the most unpredictable and the least important in terms of Oscar impact. (With the Academy having neatly eliminated the possibility of vote-splitting, I think Kate Winslet has the Oscar in the bag, whatever happens tonight.)
The smart money seems to be on Streep, who has never won a SAG Award in the film division (she has one for her TV work in "Angels in America"), is as revered a figure as you can find in the industry, and might strike voters as the best way to honour the multi-nominated "Doubt." But it remains a divisive performance, and her momentum has flagged a little over the season.
Others are counting on Winslet, with some thinking she can pull off another Globes-style double-whammy, but I somehow doubt it. As I said, "Revolutionary Road" had been losing momentum to "The Reader" for some time. Moreover, given that Winslet has already won here for "Sense and Sensibility" back in 1995, SAG voters are unlikely to feel obliged to over-compensate. Meanwhile, I think Anne Hathaway needed to win the Globe to capitalise on her chances; I sense her campaign has already peaked.
Which brings me to the true outsider in the race: Melissa Leo. Of the nominees, she has both the least familiar face and the most low-profile film, so betting on her seems like madness. Nonetheless, hers is a hugely admired performance, and she has high-profile champions like Dustin Hoffman putting the word out for her. Finally, the 'actors' actor' term that applied to Viola Davis goes for Leo too – over three decades, she has worked humbly and extensively across film and television, and she may well be more familiar to many SAG voters than she is to most filmgoers. I'll probably hate myself in the morning, but I'm counting on Leo to cause the night's biggest upset.
Lastly, I'm tempted to flip a coin over the Best Actor race. Sean Penn appears to be the logical winner: his spectacular performance has won the most precursors, his film has more heft than those of his nearest rivals, and Penn, one of the revered actors of his generation, has yet to be honoured by his peers at SAG. By contrast, on paper, Mickey Rourke has only a Golden Globe in his favour. Yet I can't help but sense a sentimental shift towards Rourke in recent weeks.
I sense that the combination of his emotive performance, his against-the-odds comeback story and his endearing presence at the Globes may tip the balance in his favour. I, for one, can't wait to find out in a few hours.
WILL WIN:
Best Cast: "Slumdog Millionaire"
Best Actor: Mickey Rourke, "The Wrestler"
Best Actress: Melissa Leo, "Frozen River"
Best Supporting Actor: Heath Ledger, "The Dark Knight"
Best Supporting Actress: Kate Winslet, "The Reader"
Best Stunt Ensemble: "The Dark Knight"
SHOULD WIN:
Best Cast: "Milk"
Best Actor: Mickey Rourke, "The Wrestler"
Best Actress: Melissa Leo, "Frozen River"
Best Supporting Actor: Heath Ledger, "The Dark Knight"
Best Supporting Actress: Penelope Cruz, "Vicky Cristina Barcelona"