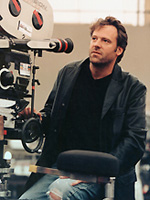 I didn't do the usual nominee reaction thing this year since I was in route to Santa Barbara, but I did send off some emails to friends and acquaintances that found themselves in the mix first thing Thursday morning.
Marisa Tomei could only manage an "OMG!" from her BlackBerry before likely being whisked away to tackle the onslaught of press queries and well-wishers.  Eric Roth, meanwhile, had only six words for me: "David Fincher, David Fincher, David Fincher."  Roth is an old pro at this by now though and, as always, he takes it in stride.  He's been in the midest of a winning sweep (1994's "Forrest Gump") and a losing one (1999's "The Insider").
Wally Pfister was the first guy I reached out to, however, and I thought it worth posting his comments on both his nomination and "The Dark Knight"'s snub in the main categories, now that the festival scene has presented a lull for a bit:
I am so thrilled to be honored for my work on a "The Dark Knight" and pleased that the work is appreciated by Academy members.  I am, however, disappointed that Chris Nolan, and the film in general seemed to have been overlooked [in the major categories]. The whole world knows what great artistry was involved in the direction, writing and presentation of the film, and none of what I was able to achieve would have been possible without the extraordinary vision of Chris Nolan.