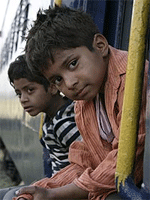 Tonight, we will receive our biggest precursor pointer to date, as the Producers Guild of America becomes the first of the guilds to make its final pronouncement.
In case you've forgotten, the five films vying for the PGA's top honour are "The Curious Case of Benjamin Button," "Frost/Nixon," "Milk," "Slumdog Millionaire" — and the one nominee to fall foul of Oscar voters, "The Dark Knight."
"Slumdog Millionaire" appears to be the safest bet, even if its producer, relative newcomer Christian Colson, is less of an industry insider than his fellow nominees. (After all, the field includes such popular figures as Kathleen Kennedy and Frank Marshall, and previous winners Brian Grazer, Ron Howard, Bruce Cohen and Dan Jinks.)
But with "Slumdog" hurtling towards all-but-inevitable victory on Oscar night, not having missed a single stop on the awards trail so far, that shouldn't matter. It's by far the most well-liked film in contention, as well as being a profitable indie with a scrappy-fighter backstory. I doubt the PGA will resist.
Back when the nominees were announced at the start of the month — doesn't that seem a long time ago? — Kris suggested that "The Dark Knight" was the "likely winner." It made perfect sense at the time: these are producers, after all, so they value financial prowess as much as artistic achievement. (Previous PGA nominees include "Harry Potter and the Sorceror's Stone" and "My Big Fat Greek Wedding.")
With "The Dark Knight" offering a rare fusion of the two factors, it seemed poised to benefit — but Thursday's Oscar snub indicates a reluctance in the industry to embrace the film. No film has yet won the PGA Award without a corresponding Oscar nod for Best Picture, and I'm not counting on that changing tonight.
Can anything else pull it off? Some are speculating that admiration for the film's heft and industry respect for Kennedy and Marshall could pull "Benjamin Button" into the frame, but I don't really see it. The PGA have gone their own way before ("The Crying Game" over "Unforgiven" in 1992, "Moulin Rouge!" in 2001), but I'm not sure "Button" has the passionate band of supporters those films did.
Right now, I don't see any reason to avoid the obvious. So I'm placing my money squarely on "Slumdog," with "Man on Wire" and (duh) "WALL-E" also triumphing tonight in their respective ghetto categories. What do you think? Have your say below.