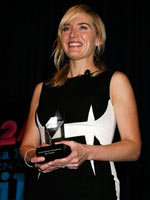 I'll dig into individual film reviews in due time.  It's been a slow start up here in Santa Barbara but the first two nights have been charming enough.
Rod Lurie's "Nothing But the Truth" gets better and better each time I see it, particularly where Lurie's work as a writer is concerned.  Some beats are on the nose, perhaps too much for some people's tastes, but I think he's really developing as a filmmaker.  And the flick went over like gangbusters with the crowd at the packed Arlington Theatre opening night gala yesterday.  All the clever jokes found a home.  The performances caught their stride with the viewers, it seemed, and everyone seemed to be in tune with the film's tight rhythm.  Most of all, the message seemed to settle (not surprising in a town this left of center), and that's encouraging.
Jeff Bridges and James Cromwell were among the A-listers who came out to celebrate the film, which has been all but smothered by an untimely Yari Film Group bankruptcy.  And the after-party at Paseo Nuevo up the street was slammed — too slammed.  But, as always, upstairs in a V.I.P. setting is the place to be, and that's where Lurie and his sharp college-bound son yukked it up with Bridges and "Truth" star Noah Wyle, among others.
Here's my brief one-off on the film from back in September when it was playing Toronto.
Tonight, Kate Winslet was in town to accept the Montecito award, becoming the first person in the history of the Santa Barbara International Film Festival to be awarded twice.  With that in mind, festival director Roger Durling took playful umbrage on stage with her remarks at the Golden Globe ceremony a week ago when she claimed she never wins anything.
Film critic and historian Leonard Maltin sat down with Winslet for a two-hour conversation through her career that I frankly expected to be a bore, but it was a lively and candid chat.  Clips from her wide ranging portfolio were peppered in here and there, but the cutest moment came when the actress couldn't stop chuckling at the "Titanic" clip.  "It's so funny because I don't see me and Leo playing Jack and Rose," she said.  "It's just me and Leo.  What are we doing there?  It's so funny to me that we were in 'Titanic,' I don't know how to explain it."
During the conversation she mentioned how lucky she feels that Peter Jackson was the fdirector to guide her first major screen performance, in 1994's "Heavenly Creatures."  As a result of that standard, she said, she thinks she seeks out the best directors.  And when you look throughout her lengthy but still youthful career, it's hard to argue: James Cameron, Jane Campion, Ang Lee, Kenneth Branagh, Alan Parker, Philip Kaufman, Richard Eyre, Todd Field, Michel Gondry, Sam Mendes, Stephen Daldry — to be lacking names like Scorsese, Spielberg and Coppola, it's a hell of a distinguished collective.
Bill Nighy was on hand to present the Montecito Award to Winslet, and his brief introductory note was touching.  "There aren't many people that drive me to patriotism," he said.  "The Rolling Stones, David Beckham (to laughter), and Kate Winslet are among the few people who make you obscurely happy to be from where we're from."
Receiving awards later in the week are Penelope Cruz, Clint Eastwood and Mickey Rourke, not to mention a virtuosos sextet that made Durling look like a genius yesterday morning.  At least in four of the cases, but hey, Hawkins was close.  And Dewitt shoulda been a contenda.
Did I mention how nice it is to get out of Los Angeles?