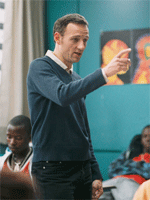 Now here's a set of nominations I can get behind. As I may have mentioned before, 2008 was all about the rejuvenation of French cinema for me, with Gallic productions occupying a quarter of my year-end Top 20, including the two poll spots.
So it's hardly surprising that I'm immensely pleased by the list of nominees revealed yesterday for the Cesar Awards, otherwise known as the French Oscars –- not least because my two list-topping films, "I've Loved You So Long" and newly-minted Oscar nominee "The Class," feature strongly.
The former grabbed 6 nods, including a surefire Best Actress bid for the sadly Oscar-snubbed Kristin Scott Thomas, while I'm pleased to see her wonderful co-star, Elsa Zylberstein, finally getting some awards love in the supporting category. "The Class" managed five, though I'm a little disappointed to see the film's excellent ensemble go unacknowledged, even in the 'young actor' categories.
Both films feature in the Best Picture lineup, as does "Public Enemy Number One," a sprawling biopic of gangster Jacques Mesrine that has been a local box-office smash and leads all nominees with 10 bids. Close behind, with nine, is Arnaud Desplechin's critical favourite "A Christmas Tale," though I'm surprised to see its two most dynamic stars, Catherine Deneuve and last year's Best Actor winner Mathieu Amalric, both snubbed.
Incidentally, Kristin Scott Thomas wasn't the only Brit to receive notice: also landing in the Best Actress lineup is Tilda Swinton, for her astounding performance in Erick Zoncka's "Julia." Together with the insane snubs of Scott Thomas and Sally Hawkins, the fact that this fearless piece of work never even entered the Oscar discussion boggles the mind. But I digress.
(More thoughts, and a list of nominations, below the cut.)
Back to the Cesars, the foreign film category includes obvious favourites "Gomorrah" and "Waltz With Bashir," as well as three U.S. entries. I'm always interested to see which American titles resonate with the Cesar voters: this year it was two 2007 titles, "There Will Be Blood" and "Into the Wild," while the nomination of low-key romance "Two Lovers" (yet to be released at home, reviewed here) continues the odd, long-standing love affair between the French and director James Gray.
Elsewhere, I'm pleased to see Christophe Honore's "La Belle Personne," an exquisite work that I was thoroughly seduced by at the London Film Festival, recognised for its screenplay and its two young, impossibly beautiful leads, Lea Seydoux and Gregoire Leprince-Ringuet.
Finally, cinematographer Tom Stern is having a great week: one day after Clint Eastwood's regular DP received his first Oscar nod for "Changeling," he was also cited by the Cesars for his work on the oddball period comedy "Paris 36." Nice to see a Transatlantic career bearing fruit on both shores.
Nominations for the principal categories are below; for a full list, check out the press release here:
BEST PICTURE
"A Christmas Tale"
"The Class"
"The First Day of the Rest of Your Life"
"I've Loved You So Long"
"Paris"
"Public Enemy Number One"
"Seraphine"
BEST DIRECTOR
Arnaud Desplechin, "A Christmas Tale"
Laurent Cantet, "The Class"
Remi Bezancon, "The First Day of the Rest of Your Life"
Jean-Francois Richet, "Public Enemy Number One"
Martin Provost, "Seraphine"
BEST ACTOR
Vincent Cassel, "Public Enemy Number One"
Francois-Xavier Demaison, "Coluche"
Guillaume Depardieu, "Versailles"
Albert Dupontel, "Love Me No More"
Jacques Gamblin, "The First Day of the Rest of Your Life"
BEST ACTRESS
Catherine Frot, "Crime Is Our Business"
Yolande Moreau, "Seraphine"
Kristin Scott Thomas, "I've Loved You So Long"
Tilda Swinton, "Julia"
Sylvie Testud, "Sagan"
BEST SUPPORTING ACTOR
Benjamin Biolay, "Stella"
Claude Rich, "With a Little Help From Myself"
Jean-Paul Roussillon, "A Christmas Tale"
Pierre Vaneck, "Love Me No More"
Roschdy Zem, "The Girl From Monaco"
BEST SUPPORTING ACTRESS
Jeanne Balibar, "Sagan"
Anne Consigny, "A Christmas Tale"
Edith Scob, "Summer Hours"
Karin Viard, "Paris"
Elsa Zylberstein, "I've Loved You So Long"
BEST ORIGINAL SCREENPLAY
Arnaud Desplechin and Emmanuel Bourdieu, "A Christmas Tale"
Remi Bezancon, "The First Day of the Rest of Your Life"
Philippe Claudel, "I've Loved You So Long"
Marc Abdelnour, Martin Provost, "Seraphine"
Dany Boon, Franck Magnier and Alexandre Charlot, "Welcome to the Sticks"
BEST ADAPTED SCREENPLAY
Laurent Cantet, Francois Begaudeau and Robin Campillo, "The Class"
Clemence de Bieville, Francois Caviglioli and Nathalie Lafaurie, "Crime Is Our Business"
Eric Assous and Francois d'Epenoux, Jean Becker, "Love Me No More"
Abdel Raouf Dafri and Jean-Francois Richet, "Public Enemy Number One"
Christophe Honore and Gilles Taurand, "La Belle Personne"
BEST FOREIGN FILM
"Eldorado," Bouli Lanners
"Gomorrah," Matteo Garrone
"Into the Wild," Sean Penn
"Lorna's Silence," Jean-Pierre and Luc Dardenne
"There Will Be Blood," Paul Thomas Anderson
"Two Lovers," James Gray
"Waltz with Bashir," Ari Folman
BEST DOCUMENTARY
"Her Name is Sabine," Sandrine Bonnaire
"Hollywood, I'll Sleep Over Tonight," Antoine de Maximy
"The Beaches of Agnes," Agnes Varda
"Tabarly," Pierre Marcel
"La Vie Moderne," Raymond Depardon
BEST FIRST FILM
"Home," Ursula Meier
"I've Loved You So Long," Philippe Claudel
"Mascarades," Lyes Salem
"Anything For Her," Fred Cavaye
"Versailles," Pierre Schoeller
MOST PROMISING ACTOR
Ralph Amoussou, "With a Little Help From Myself"
Laurent Capelluto, "A Christmas Tale"
Marc-Andre Grondin, "The First Day of the Rest of Your Life"
Gregoire Leprince-Ringuet, "La Belle Personne"
Pio Marmai, "The First Day of the Rest of Your Life"
MOST PROMISING ACTRESS
Marilou Berry, "Ugly Melanie"
Louise Bourgoin, "The Girl From Monaco"
Anais Demoustier, "Grown Ups"
Deborah Francois, "The First Day of the Rest of Your Life"
Lea Seydoux, "La Belle Personne"
BEST CINEMATOGRAPHY
Eric Gautier, "A Christmas Tale"
Agnes Godard, "Home"
Tom Stern, "Paris 36"
Robert Gantz, "Public Enemy Number One"
Laurent Brunet, "Seraphine"