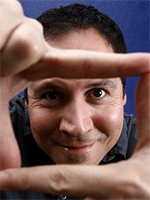 Richard Corliss' rundown of yesterday's Oscar nominations, following the familiar "will win/should win/wuz robbed" template, features some typically against-the-grain opinions, including the surprising (to me, at least) that Best Supporting Actress is the strongest of this year's acting races. ("Three of the nominated ladies are Oscar-worthy," he writes. And what are Rourke, Penn and Jenkins? Chopped liver?)
But his most contrarian statement of all arrives in his selection of who should have been nominated for Best Director, an overt attempt at baiting "Dark Knight" fans:
Robbed: Jon Favreau, Iron Man
O.K., so The Dark Knight was shut out of the Picture and Director categories. Dommage. But in a terrific year for superhero films, the smartest, cleanest one, Iron Man, was also ignored. Robert Downey Jr., nominated for his blackface parody in Tropic Thunder, created a complex, virtually human action figure in the repentent munitions baron Tony Stark. The special effects buttressed the picture instead of overwhelming it. And Favreau's direction was lean, clean and suave, up there with old Hollywood adventure films by directors like Howard Hawks and Raoul Walsh — movies that never got awards, but which we watch with undiminished pleasure today.
Right. Anyway, for what it's worth, Corliss' rebel streak doesn't extend to his predictions. Like everyone else, he puts his money on "Slumdog," Boyle, Winslet, Ledger and Cruz — while in what strikes me as the most up-in-the-air of the major races, he picks Mickey Rourke ahead of Sean Penn. (I agree, but that could all change on Sunday.)