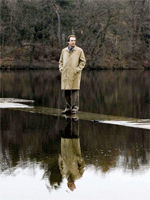 • In case you've just emerged from a coma or something, the nominations for the 81st annual Academy Awards were unveiled.
• And it's fair to say we weren't impressed. At all.
• OK, maybe a little impressed.
• Amid the chaos, Kris took a stab at what/who we should expect to emerge victorious on Oscar night.
• With the rise of "The Reader" the week's big story, Tech Support presciently chatted with the film's craftsmen.
• Meanwhile, scripter Sir David Hare told the film's critics where to get off.
• This week's Off the Carpet column laid out our final (and, as it turned out, slightly off-target) predictions.
• You probably didn't notice, but the Razzie Awards did their thing as usual.
• "WALL-E" picked up what was to be its last Best Picture gong of the season.
• Ahead of the nominations, yours truly filled out his own imaginary ballot. Suffice to say, there was little overlap.
• The Visual Effects Society announced their nominees, showing "The Dark Knight" surprisingly little love.
• Reflections on how the Academy's top award has fared this decade.
• Finally, amid this week's Oscar hysteria, Sundance buzz suggests Carey Mulligan could be one to watch for next year's derby.