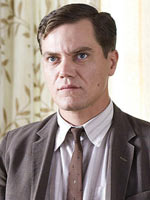 Yesterday the Academy displayed just what a fractured organization they are, championing a small film like "Slumdog Millionaire," for which I applaud them, but snubbing "The Dark Knight," one of the best reviewed films of the year and a titan at the box office. All day I was asking, 'How?'  All day I wondered just how out of touch this organization truly is and what a major overhaul is needed.
Call it ageism if you must, but we I think we need new blood in there.  I have been covering the Academy Awards for more than 20 years and have had my share of disappointments and shocks over that span of time. One would think I'd get used to it.
I remember the rage when "Ghost" was nominated for Best Picture and when Roberto Begnini won Best Actor. That anger and shock was nothing like I felt yesterday morning at 8:30 Ontario time.
I could not speak. I closed my office door and quietly raged, trying to make sense of it. Reading the other reactions helped ease the wound (I take it personally you see when my films are snubbed) and tried to see the good in the nominations this year. And as Guy astutely points out, there is some good.
Melissa Leo in "Frozen River" made the cut, as did Richard Jenkins for "The Visitor."  Both deserved, both terrific performances. "Wall-E" grabbed a screenplay nod, as well as sound nominations, and "Slumdog Millionaire" did very well indeed, with 10 nods. "The Curious Case of Benjamin Button" lead the pack with 13 and Brad Pitt finally got a nomination for Best Actor — long overdue.  Mickey Rourke and Marisa Tomei made the list for "The Wrestler" and all four major actors from "Doubt" are nominees.
Mike Leigh was nominated for his "Happy Go Lucky" script and Clint Eastwood's longtime cinematographer Tom Stern was nominated for "Changeling," richly deserved.  It's great to see Michael Shannon in the supporting category for "Revolutionary Road."  At least the film got something.  And as much as I love Eastwood, I was happy he wasn't nominated for "Gran Torino" because we would have seen one of those ridiculous sentimental awards on the horizon.
How very cool Robert Downey Jr. is there for "Tropic Thunder," a wonderful piece of acting. Sean Penn did the best work of his career in "Milk" and I am thrilled he was nominated
But the bad reeks.  Winslet snubbed for "Revolutionary Road" in favor of a film that had no business being a Best Picture nominee.  But I think that certainly opens the race up.  Who will win?  Streep?  Hathaway?  I think Winslet's performance in "The Reader" was clearly a supporting one, but Marlon Brando won for what was essentially a supporting role in "The Godfather,"  as did Peter Finch in "Network" and Anthony Hopkins in "The Silence of the Lambs."
Though I love "Changeling," I was shocked that Angelina Jolie slipped in lead actress over Sally Hawkins in "Happy Go Lucky" and Michelle Williams in "Wendy and Lucy." The lack of love for "Revolutionary Road" did surprise me because the actors make up the largest branch of the Academy and the film was an actors' dream…er, nightmare (this year). Where are the screenplays nominations for "Road," "Changeling" and "The Wrestler?"  Why is "Waltz with Bashir" not among the nominees for animated feature?
Finally how is it that the greatest rock-and-roller ever, Bruce Springsteen, is snubbed for his mournful tune to "The Wrestler" while two from "Slumdog Millionaire" get in?  More than any single song from a film last year, Springsteen's tune captured the essence of the pic to utter perfection and complimented the movie in every way, adding a texture that remains haunting.
So yeah, I'm pissed.  I might not even watch this year.  Maybe I'll put in the "Dark Knight" DVD instead.