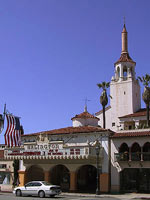 The air smells cleaner.  The sound of waves crashing outside the hotel room is soothing.  The hippies are dancing in the streets.
It's nice to get away from the mess of this morning and the frustration of Oscar season in general for eight days.  But the awards circuit isn't out of sight by any means.  Kate Winslet, Michael Shannon, Penelope Cruz, Mickey Rourke, Viola Davis, Melissa Leo, all of them set to be feted over the course of the week.  Panels will include Andrew Stanton, Dustin Lance Black and Eric Roth, among others, are set for panels, while festival guest director David Fincher will be the toast of the town throughout, leading to his big to-do on Friday, Jan. 30.
And yet, it doesn't feel as stifling as it might.  Sometimes a couple hours drive out of the heart of the beast does a body good.
With that, one of the season's casualties drops this evening, Rod Lurie's "Nothing But the Truth," which was all but buried when Yari Film Group went under last month.  As festival director Roger Durling has said, the film deserves to be seen and it's a hell of a gesture on Durling's part to give the pic some limelight.
So with that, I'm throwing on the suit and heading out for the evening.  I'll be here all week catching a number of films I've missed over the last couple of months and even a few I'd like to enjoy once more.
What Oscar nominations?