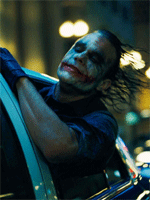 I had planned to write a full-blown rant about the numerous blind spots and errors of judgment in this morning's Academy Award nominations, but at this point I'm too tired and resigned to summon up the necessary fire.
It also occurred to me that I should take some inspiration from the character at the heart of the snub that personally pained me the most: Poppy, the eternal optimist embodied by the luminescent Sally Hawkins in arguably the year's finest performance. When she loses her bicycle at the start of "Happy-Go-Lucky," she laughs it off and moves onward. I suspect her reaction to this morning's disappointing news would be much the same — as ours should be as well. It's not life or death. It's the Oscars.
Nonetheless, given that I'm nowhere near as well-adjusted as Poppy is, I can't quite let this morning's proceedings go by without commenting on the major opportunity that the Academy sadly and short-sightedly let slip through its fingers. And yes, I am talking about "The Dark Knight."
As I have stated before on these pages, I'm not one of the "Dark Knight" die-hards. While a stunning feat in many areas, I thought it had some critical flaws in its narrative construction and (occasionally) its technical execution that kept it at a comfortable distance from my own list of the year's ten best. In short, I'm not a fanboy.
And yet, I'm dismayed that "The Dark Knight" has been denied a berth in the races for Best Picture and, even more surprisingly, Best Director.
Why? Because I recognise that Christopher Nolan's film represents a rare confluence — alchemy, even — of achievements that only comes along once in the bluest of moons. Here we had a populist-leaning entertainment that was formally and thematically ambitious, grandly entertaining and strikingly beautiful, a showcase for both inspired performing and the finest craftsmanship the industry had to offer.
"The Dark Knight" meant something to people; whether accidentally or not, it took on a zeitgeisty appeal that had a wide range of audiences contemplating its political resonances. And in a cinematic landscape that rarely finds occasion to overlap the two, it united mass audiences and broadsheet critics in their approval. It was, in short, a bloody miracle.
So when an industry body like the Academy chooses to sideline such a work in favour of hermetic, middlebrow (not to mention less broadly acclaimed) fare like "Frost/Nixon" or "The Reader," it both sets a curious benchmark for industry achievement, and sends a frankly hostile message to the public they are supposed to be serving. It doesn't matter to us that you loved it, they're saying. We still weren't comfortable with it.
I'm by no means advocating blindly populist voting. For my part, I couldn't care less whether the Oscar telecast's ratings need a boost or not. Cinematic excellence and ingenuity should always remain the foremost of criteria for inclusion, and it's the failure to acknowledge that that allows for such atrocities as "Mamma Mia!" receiving a Best British Film nomination at the BAFTA Awards.
But "The Dark Knight" had the credible critical chops to compete with the best of them. So, to an even greater extent, did "WALL-E," a film celebrated by multiple critics' circles as the year's finest, and one that would have made an equally respectable (and for me, more personally pleasing) Best Picture nominee. Both films inventively expanded the possibilities of their respective genres and/or mediums, yet the Academy voters either believe that commercial success is its own reward, or more likely, still cling to the notion that adult-skewing drama is the most noble of storytelling forms.
What gives? In the past, the Academy hasn't been afraid to reward broadly populist works, even ones whose commercial achievements signficantly outweighed their aesthetic ones. Passionate public support carried "Love Story" all the way to the Best Picture derby in 1970, as it did for "Ghost" 20 years later. Something has changed, with the voters now looking so stubbornly inward as they fill out their ballots that they appear to have forgotten who's watching.
It would be one thing had they gone to the opposite extreme, filling the five slots with the year's most challenging, boundary-pushing work, perhaps even looking to the arthouse and the international scene for inspiration. But they plainly haven't: four of the films nominated represent comparatively safe, staid, traditional "awards fare" that, however finely executed in some cases, doesn't have much to say to modern culture (or modern cinema, for that matter).
The fifth, meanwhile, will surely romp to victory on the strength of its visual energy, quirkiness and semblance of connection to the present day — and, in this field, deservedly so. But the question remains: if "Slumdog Millionaire" can be rewarded for its evident contemporaneity and broad audience appeal, why can't "The Dark Knight"?