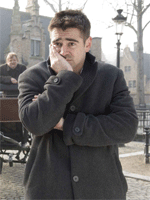 OK, looking at the bigger picture, I'm as mortified as everyone else by this morning's Academy Award nominations. By playing it safe in numerous areas, AMPAS voters have once more failed their art form … but more surprisingly, they have failed their audience.
Kris has already touched to some extent on the most glaring injustices of the morning, and I plan to indulge in my own share of ranting later today. But before I get into that, I'd like to channel my inner Bing Crosby and accentuate the positive. Amid the minefield of errors, there were some isolated pleasant surprises and level-headed decisions, even if many of them were on a smaller scale. And these were the best of them:
"GRAN TORINO" STRIKES OUT: Many were speculating that the latest from the (usually) Oscar-beloved Clint Eastwood could be a spoiler in the top race, with the man himself an ominous threat to actually take the Best Actor gong. But for once, Eastwood's stealth-release strategy didn't pay off. Either the film gathered momentum too late, or voters saw through the film's creaky construction and hammy lead turn. Either way, in passing over Eastwood for the wonderful Richard Jenkins, the Academy made the right call.
ORIGINAL SCREENPLAY GETS ORIGINAL: Matching the WGA's Original Screenplay nominees in only one instance, voters dug deep here and pulled some inspired choices out of the hat. Bypassing the familiar comforts of Woody Allen or the Coen Brothers, they recognised that "Frozen River" owed its jagged, riveting tension to more than just Melissa Leo's stellar performance, and, most thrillingly, recognised the pitch-black wit and literary sensibility of "In Bruges." A nod for Mike Leigh's unconventionally constructed "Happy-Go-Lucky" was more expected, but no less gratifying.
SHANNON FINALLY GETS HIS DUE: As "Revolutionary Road" continued its bumpy ride through the awards season, I was perplexed as to how the film's standout performance — and most unanimously acclaimed element — consistently failed to crop up on precursor lists. Michael Shannon jolts a perhaps overly studied film to life whenever he is on screen, all but wiping the floor with his none-too-shabby co-stars, yet he was clearly not famous or glamorous enough for the tastes of the Globes, SAG or the BFCA. Thankfully, a presumably small band of actors in the Academy weren't caught napping — and while the film struck out in every major category, it's somehow fitting that Shannon should be its last man standing.
M.I.A. IS AN OSCAR NOMINEE: Let me repeat that. M.I.A. is an official Academy Award nominee. Whether or not she only surfed in on the wave of the Academy's overwhelming enthusiasm for "Slumdog Millionaire," I'm thrilled that this immensely current, defiantly eccentric musical rebel was been acknowledged for a composition as edgy and beat-heavy as "O… Saya." The Best Original Song category may currently be overshadowed by the egregious omission of Bruce Springsteen, but the fact that we'll be seeing Ms. Arulpragasam performing on the Oscar stage is some consolation.
"THE CLASS" SURVIVES THE CUT: OK, so the French entry — the best film of 2008, according to yours truly — may have seemed a no-brainer for inclusion in the Best Foreign Language Film category. But we all know that this is a category frequently given to ignoring the obvious, so I'm relieved that voters responded to its gritty, authetic textures and improvisational technique. Whew.
Beyond that, well … I got nothin'. Bring on the ranting.