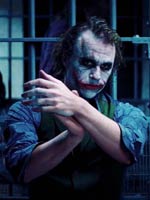 I was happy to help my pal Scott Bowles out with this USA Today piece, taking up the task of analyzing the Best Picture chances of Christopher Nolan's "The Dark Knight." But I was slightly misquoted and a thought was tossed in without the right context toward the end:
"You can argue that The Dark Knight is getting all this attention because of a perfect storm of events," Tapley says. "We had been hearing that Ledger was doing great things with the part way before he died. So it was going to be big, and he was going to get noticed. But is the movie this big if there's not some rubbernecking due to his death? Probably not."
By "big," the point I was making (and I believe I used these words, actually) was that the film might not have made as much money as it did without the voyeurism of seeing Heath's penultimate performance.  I think critical acclaim was coming whether he was still with us or not.  And "rubbernecking" ain't my terminology.
Anyway, there are some nice notices of support from industry folks throughout the piece. I liked this bit from Steven Spielberg:
"I am really happy to see that The Dark Knight is making a last-minute run at recognition," he said after the Golden Globes. "I was very happy with the Heath (Golden Globe) win and am looking forward to some more Dark Knight momentum. … That balances things out."
It's interesting because in having a discussion about this issue with a fellow Oscar blogger this evening, the point was raised that it's possible "The Dark Knight" lands in the big category but misses perhaps in the screenplay and even the directing fields. "Then it's 'Jaws,'" my colleague said.
And then there's this lady, really stating the obvious at a time when the obvious needs to be stated:
"For some reason, the academy has gotten away from recognizing what Hollywood does really well: entertain the masses," says media critic Elayne Rapping, a professor of American studies at the University at Buffalo. "Not all popular movies are good; many of them are terrible. But there is something to be said for entertaining great numbers of people. Recognizing The Dark Knight could be a sea change in the way commercial movies are treated."
And one more from yours truly:
"You've got Wolverine (star Jackman) hosting the show, the Joker being honored, Iron Man perhaps getting some recognition," Tapley says. "This could be the year that populism and critical attention finally dovetail."
Anyway, read the full story here.  One last gasp of Bat speculation before the big day.