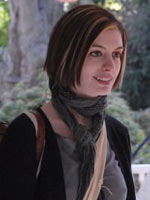 Like I said, I'm on the record.  I've given some left-field choices (as have you).  But here are some lingering thoughts bouncing around inside my tired old head this evening:
1) I think we're going to see tomorrow, finally, that "Rachel Getting Married" is nothing more than a critical fave.  Personally, I liked it enough, but all the "one of the year's best" talk was dubious to say the least.  A SAG ensemble nod would have kept me quiet.  Talk about a place it could have made a stand.  And that WGA snub was just one more smack by the industry, in my view.  Maybe it's just like one voter told me: "I couldn't stand these people."  Anne Hathaway, step up for the film's consolation nod.
2) "Gran Torino," "Gran Torino," "Gran Torino."  I can't say it enough…this film is creeping up.  It's possible it came on too late and Clint missed the timing this time out, but, like I've said…watch it.  Personally I think it's a bigger threat than "The Reader."  A bad-ass white guy kicking kids off his lawn or a porno about a sympathetic Nazi.  Which film is going to resonate more with the Academy?  You tell me.
3) Everyone says, in varying degrees, that everything from "The Dark Knight" to "Frost/Nixon" to "Milk" are on the bubble.  But here's a radical idea: what if the weak link is the film many have called cold and removed?  "The Curious Case of Benjamin Button" sure does have a lot of guild support…but so did "Dreamgirls."
4) Could one of the biggest stories tomorrow be the snubbing of Brangelina?  Some think he's out, some think she's out…but what if they're both out?  Eesh.
5) Better yet, might the biggest shock of the day be a "Man on Wire" snub in the documentary feature category?  All I'm saying is films dominated by preexisting footage can struggle here sometimes.
Then again…maybe I'm off my rocker.  But there you have it.
I've only made one prediction alteration, FYI, and that's swapping "Slumdog Millionaire" for "Quantum of Solace" in the sound editing field.  The latter was just an arbitrary choice to reflect the mixers' feelings, but I'm thinking of a sweeper possibility there and I like the advenurous choice of "Slumdog" more than "The Curious Case of Benjamin Button."  But really, that category lately?  Flip a coin.
Enjoy the morning.