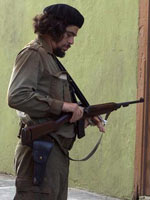 The first time I saw "Che" back in September at the Toronto International Film Festival I believed the performance of Benicio Del Toro was extraordinary and the film was one of the most exceptional achievements in modern cinema. For me, "Che" works as a massive work at more than four hours and exists because of Del Toro's mesmerizing performance which is almost wholly internal. I have seen the film again on DVD twice and actually have come to admire the work even more than I did that first time.
Here we are in January, the Oscar nominations one day away, and I have a sneaking feeling Del Toro could end up with a lead actor nomination, which would thrill me. No idea why I think this, and I am likely dead wrong, but something in the air I guess tells me it might happen. The film and the director have no chance, I have resigned myself to that (and I understand it), but Del Toro is a revered actor and the actors' branch just might nominate him because they, more than anyone else, will understand the depth and quality of his superb performance.
I do not mean for a moment that others do not get his performance, but I have had discussions with other critics who have stated that the work has no great moment, no arc, no major speeches. Perhaps not, but rarely have I seen an actor so totally own the role.  Del Toro inhabits the character with an extraordinary authority.
Why does a performance have to have some "huge moment" to slide in?  Look at Anthony Hopkins and Emma Thomson in "The Remains of the Day"."  Emotions stifled, performances were internal.  Sometimes the acting, the greatness of it, is not in what's being shown but what's being felt.
Del Toro felt Che throughout and is deserving of attention, certainly much more than he is getting.  The Academy likes him enough.  There is no doubt in anyone's mind he is a great actor and every once in a while they smile on a performance that deserves it, catching us off guard.
If it doesn't happen, well, them's the breaks, but I will always champion the film and his work.  It is not a perfect film by any means, but may it be a perfect performance.