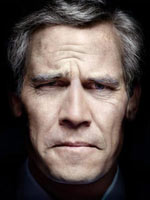 The nominations announcement is, oh, 18 hours away (yeah, we count minutes at this stage).  Even though I'm well on the record as being a prognosticative pussy this year, I can't shake the feeling that we're in for our share of surprises.  I doubt I'm alone.
You can go back over Oscar history and write a whole book on the nominations that blind-sided everyone.  Sometimes the contender in question might have popped up briefly during the season, though they were forgotten in due time.  Other times, they simply manifested from thin air and smacked Oscar watchers in the face.  But they're always there, lingering, waiting to plant that seed of doubt in the viewer the next year.  And the year after that.
It's enough to pull your hair out.
Earlier today, John posted an interesting thought about Benicio Del Toro's chances in the lead actor category, which followed a recent musing on Woody Allen's chances as a lone director nominee.  This is the kind of stuff I'm talking about.
So with that in mind, I've collected a brief list of four contenders that I legitimately think could pop up tomorrow and join that lineage.  Some of them are certainly more plausible than others, but none of them, I feel, are terribly out of bounds.  I don't have the cojones to predict them, of course.  But this is what I'm thinking.
(By the way, if I DO happen to change any of my predictions at the last minute tonight, I'll be sure to offer a post indicating as much.)
My thoughts on the left field…
Cate Blanchett, Best Actress, "The Curious Case of Benjamin Button"
I should just get this out of the way at the top.  I remain shocked, as I have all season, that I need to chalk this performance up in a "left-field surprise" vein, but the truth remains, the only nomination of substance Cate Blanchett has received this year for her brilliant work in "The Curious Case of Benjamin Button" was a BFCA tip of the hat.  That's a mighty big tip of the hat, mind you, but nevertheless, I can't help but wonder if she still has a finger hold on the race.  Probably not, but it's certainly worth mentioning.  She's found considerable support with AMPAS in the past and she's coming off a year that saw her double-dipped without a win.
Josh Brolin, Best Actor, "W."
This is probably the most likely of my left-field spotlights, and I have nothing to back that up with other than gut instinct.  I think there is a flimsy Best Actor slot right now, one I'm expecting to be filled by Richard Jenkins.  Others say Brad Pitt.  A precious few say Leonardo DiCaprio.  But Josh Brolin is coming off a banner year in 2007 and though he's pretty much assured a supporting actor nomination for "Milk," I wouldn't be surprised in the least if he was tapped on the other shoulder for his solid portrait of our FORMER Commander-in-Chief.  Then again, that might be yesterday's news to voters ready to move forward in Obama's America.
Ari Folman, Best Director, "Waltz with Bashir"
All assumptions are that "WALL-E" is an industry favorite despite an understandably weak showing with the major guilds.  Understandable, that is, because the film wasn't eligible for DGA, WGA or, really, SAG, while the PGA had a separate category for animated films.  That's all well and good, but I've heard as much enthusiasm for Ari Folman's "Waltz with Bashir" as I have Pixar's cute little robot.  This thing is getting Best Picture votes, folks.  So what about a truly extraordinary shocker?  Ari Folman popping up in the Best Director category, perhaps?  No one saw Fernando Meirelles coming in 2003.  Of course, a surprise screenplay nomination fo "Bashir" would make more sense, but I thought I'd tip-toe further out onto the limb.
"Gomorrah," Best Adapted Screenplay
This isn't the most original of considerations since Guy went ahead and stole my thunder earlier this week by predicting the damn thing, but nevertheless, Roberto Saviano, Matteo Garrone and their stable of writers cranked out a hell of a screenplay this year, one derived from a dense piece of non-fiction.  Cannes champ "The Class" is also a possibility, but "Gomorrah" had something of a screenplay campaign early on.  Sadly, the film was nixed by the foreign language film committee, but it is still eligible elsewhere, and as Guy has pointed out, there tends to be an off-the-wall adapted screenplay contender in the mix every year.
What left-field possibilities are you considering?  Tell us in the comments section below!