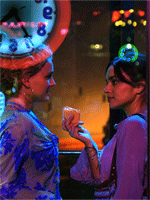 Back in December, Kris offered his take on how he would fill out his nominee ballot if he were an Academy member (affording himself the luxury, obviously, of voting in all categories). Of course, playing voter is a popular sport in the blog world, with Nathaniel Rogers' annual Film Bitch Awards as thorough and intelligent a rundown as you could ask for. Would that the Academy displayed such passion and imagination in their choices.
For my part, finalising my predictions was a dispiriting procedure, as I realized the range and depth of work that will inevitably go unrecognized as the AMPAS gravitates towards the favoured and the familiar. And so it is that, as the nominations loom over us, I decided to chalk up my own ballot, acknowledging those who I feel most deserve to hear names called on Thursday morning, whether or they're deemed possible — or even eligible.
Today's post focuses on the technical categories; tomorrow's will run through the main ones. (Before I begin, let me add the caveat that, much to my chagrin, I haven't yet seen "Let the Right One In.")
Best Cinematography
Wally Pfister, "The Dark Knight"
Sean Bobbitt, "Hunger"
Luca Bigazzi, "Il Divo"
Darius Khondji, "My Blueberry Nights"
Maryse Alberti, "The Wrestler"
After last year's banner year for the art of cinematography, this was a year of subtler accomplishments in the field. I must admit that much of the year's most celebrated work in the field didn't particularly dazzle me, with several revered names only working at (or below) par. Pfister's muscular, burnished lensing of "The Dark Knight," however, did not disappoint, while Bigazzi's hyper-stylised work on "Il Divo" was no less kinetic.
In something of a breakthrough year for female DPs, Alberti effortlessly captured the rhythms of human movement, while Khondji conjured up the year's dreamiest palette for Wong Kar-Wai's otherwise muddled "My Blueberry Nights." The year's crowning achievement, however, came from Sean Bobbitt, whose breathtaking compositions for "Hunger" took equal inspiration from the art gallery and the newsroom. Just missing the cut were "The Fall," "Gomorrah" and "The Good, The Bad, The Weird."
Best Art Direction
Catherine Martin, "Australia"
Ged Clarke, "The Fall"
Tom McCullagh, "Hunger"
Mark Friedberg, "Synecdoche, New York"
Ralph Eggleston, "WALL-E"
Another category that didn't strike me as having had a particularly vintage year, though one film displayed work for the ages. In "Synecdoche, New York," Mark Friedberg (indisputably the greatest production designer at work today, I think) created an impossibly dense visual representation of its protagonist's psyche, without skimping on beauty or humour. Of the rest, "Australia" was, for me, the two most richly detailed of several lavish period pieces, while "Hunger"'s vivid minimalism was as striking as "WALL-E"'s sleek, expansive fantasia. Lastly, "The Fall" makes a late entry into my five (displacing "Benjamin Button") following my recent discovery that the film's astonishing production design is not CGI-aided. (Yeah, I'm a little slow.) Honourable mentions to "Revolutionary Road" and "The Dark Knight."
Best Costume Design
Catherine Martin, "Australia"
Michael O'Connor, "The Duchess"
Jacqueline Durran, "Happy-Go-Lucky"
Danny Glicker, "Milk"
Gabriela Salaverri, "Savage Grace"
Had it been released in 2008, "The Brothers Bloom" would have handily won this category for me with its witty blend of quirk and couture. Nonetheless, the year offered much inspired work in this field, from the impossibly lavish plumage of "The Duchess" to the tangible polyester textures of "Milk." Catherine Martin looked shamelessly to old Hollywood for her threads, while I have Nick Davis to thank for reminding me of the saturated decadence on display in the undervalued "Savage Grace." For my money, however, no costumes this year were as invaluably character-serving (and indeed, character-creating) as Durran's technicolour thrift-store assembly for "Happy-Go-Lucky."
Best Film Editing
Laurence Briaud, "A Christmas Tale"
Robin Campillo, "The Class"
Marco Spoletini, "Gomorrah"
Cristiano Travaglioli, "Il Divo"
Tim Squyres, "Rachel Getting Married"
It's often Hollywood that comes up with the sharpest, most forward-thinking work in this category, but not so this year — it was European films, for this viewer at least, that presented the most innovative and ambitious feats of cutting. While the dizzying pyrotechnics of "Il Divo" and the stylised, occasionally quaint ragbag of techniques on display in "A Christmas Tale" rivalled each other for playfulness, "The Class" and "Gomorrah" took a more sober approach, each crafting complex, highly disciplined narratives from a sprawling mass of story material.
Meanwhile, of the American films, "Rachel Getting Married" may not have spoken to me personally, but Tim Squyres' limber, restless editing was impressively attuned to the nervy, distracted nature of its characters. Narrowly missing out in a competitive field: "Happy-Go-Lucky," "The Wrestler" and "Slumdog Millionaire."
Best Makeup
"Hunger"
"Synecdoche, New York"
"The Wrestler"
This year presented an unusually rich and varied selection of work in this category. While "Synecdoche"'s elaborate, perceptive ageing work was an obvious choice — unlike many films, it maintains the idiosyncrasies of the characters' features as the years gradually set in, as opposed to burying them under latex — I was drawn to subtler wizardly for the other two slots. In different ways, "Hunger" and "The Wrestler" both take great care to map out punishments endured by the human body; they may not represent the flashiest work we saw this year, but the artists' respective contributions were significantly performance-aiding. Missing out by a hair was "The Dark Knight," for the year's most iconic makeup design … but iconography is a reward in itself.
Best Original Score
James Newton Howard and Hans Zimmer, "The Dark Knight"
Ry Cooder, "My Blueberry Nights"
A.R. Rahman, "Slumdog Millionaire"
Jon Brion, "Synecdoche, New York"
Max Richter, "Waltz With Bashir"
As with the Best Cinematography category, last year's embarrassment of riches makes this year's field look somewhat wan by comparison. However, while great talents like Alexandre Desplat and Thomas Newman coasted on expertly applied but overly familiar motifs from their respective oeuvres, two composers whose work always struck me as slightly safe joined forces to create the year's boldest, most immediate mainstream score for "The Dark Knight."
Meanwhile, Bollywood icon Rahman created an appropriately busy, eclectic sonic stew for "Slumdog Millionaire." The year's other outstanding achievements for me were all in a rather more minor key, with Cooder, Brion and Richter offering variously romantic, elegiac and brooding brands of musical melancholy. Finlly, in a year where few scores got me particularly enthused, "Burn After Reading," "The Visitor" and "The Wrestler" all entered the equation.
Best Original Song
"I Want It All" from "High School Musical 3: Senior Year"
"Little Person" from "Synecdoche, New York"
"Trouble the Water" from "Trouble the Water"
"Good Morning Lebanon" from "Waltz With Bashir"
"The Wrestler" from "The Wrestler"
If the Original Score field was undernourished, Original Song offered atypically interesting possibilities. You can sneer at "High School Musical" all you like, but to do so is to ignore the fact that the film (like its predecessors) is packed with cannily crafted compositions that squarely hit their target, none wittier than "I Want It All." "Waltz With Bashir"'s original composition tapped into the film's bitter sense of irony, while no song from a film this year was more immediately moving, or more integral to the narrative, than "Trouble the Water" — not least because it was written and performed by Kimberly Roberts, the compelling figure driving the entire project.
While I normally discount closing-credit compositions, Bruce Springsteen's theme for "The Wrestler" is so sensitive to the film's tonal and thematic textures — and is such an essential piece of songwriting in its own right — that it proves an honourable exception. And no movie theme haunted me longer than the exquisite "Little Person," the lyric of which succeeds in balancing universal and character-specific sentiments. Finally, an honourable mention for the thrilling "O… Saya" from "Slumdog Millionaire."
Best Sound Mixing
"The Dark Knight"
"Il Divo"
"The Good, The Bad, The Weird"
"Rachel Getting Married"
"WALL-E"
I'm not enough of a technical expert in the field to articulate exactly why these five films' sound designs particularly leaped out at me, but while four of these deftly juggled a busy panoply of elements (with "Rachel Getting Married"'s calculatedly disorganised work proving that a film needn't be epic in scale to be sonically complex), "WALL-E" emerges as a clear winner for me — largely for how its first half employs the limitless possibilities of quiet.
Best Sound Editing
"Australia"
"The Dark Knight"
"The Good, The Bad, The Weird"
"WALL-E"
"The Wrestler"
As is often the case with the Oscars, there's a substantial overlap with the mixing category here, though I thought "Australia" deftly tuned into the natural sound effects of its landscape — when the occasionally overbearing score allowed for it — while "The Wrestler" vividly (and occasionally stomach-churningly) located the sonic specifics of physical combat. "WALL-E," however, still stands as the year's benchmark achievement in this field.
Best Visual Effects
"The Curious Case of Benjamin Button"
"The Dark Knight"
"WALL-E"
Bias alert: I admit that when it comes to visual effects, I respond more to beauty than I do to scale or bombast — so while there may have been films more crammed with technical expertise and fanboy gosh-wow wizardry than these nominees, these were the three films whose effects intrigued me sufficiently to wonder how they were achieved. I can't quite get past the plasticky finish of the CGI in such films as "Iron Man" and "Hellboy II," however skilled they are — "painterly" is what I look for, and these films each had that quality in spades. (I should mention that I had "The Fall" in my original line-up, until it was pointed out to me that the film apparently employs no visual effects. Golly.)
OK, so that's a wrap for the technical categories. For those of you keeping score, my most-favoured so far is "The Dark Knight," with five mentions, while "The Wrestler," "Synecdoche, New York" and "WALL-E" each merit four apiece. Stay tuned to see who comes out on top in Part Two tomorrow.