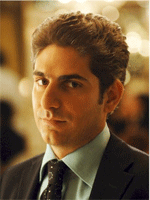 Well, not really — in this instance, life improves on art substantially. I'm referring to tomorrow's opening film at the Rotterdam Film Festival, "The Hungry Ghosts," the directorial debut of actor Michael Imperioli.
Imperioli, as my fellow "Sopranos" junkies will immediately know, is best known for his role as Christopher (a.k.a. "Chris-to-fuh") Moltisanti in the landmark HBO series. Fans will also remember that in addition to being a Mob lackey, dimit and all-purpose sleazebag, Christopher was also a spectacularly untalented screenwriter, so it warms my heart to see heart to see him make it on the festival circuit, even if it is in the guise of his more intelligent creator. "The Hungry Ghosts," however, sounds like a proposition that may have gone a little over Chris-to-fuh's head, to go by the festival programme blurb:
In The Hungry Ghosts, Imperioli's characters float like ghosts through life, looking for happiness, hoping to fulfil a desire. The film, set in New York and its surroundings in a period of 36 hours, contains several narrative lines. In one of these, late-night radio host Frank gambles and uses drugs at the expense of his teenage son. In another, philosophical seeker Gus, fresh out of a detox-program, searches for his ex-lover Nadia. It becomes clear and inevitable that initially independent narrative lines will come together in the end.
The Rotterdam fest is an interesting one because it remains resolutely focused on up-and-coming auteurs. You won't have heard of many of the films coming out of it (though they occasionally hit on something like "Persepolis" or "Old Joy"), but it's worth keeping an eye on.