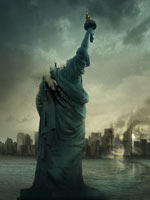 Oh yeah, another guild (well, industry award I should say) this week: the Visual Effects Society (VES).  The group's typically unnavigable list of kudos contenders can be found below and after the jump.
It's interesting to note "The Chronicles of Narnia: Prince Caspian" having a decent showing throughout, yet failing to make it to the final bake-off round.  Ditto "Cloverfield."  Meanwhile, bake-off survivor "Australia" is nowhere to be found.
"The Dark Knight" looked to be shut out until the miniatures and special effects categories came to its aid, but even with the four nominations to its credit (two of them in the same category — that's not a typo), I'm tempted to think "Hellboy II: The Golden Army" might be breathing down its neck.  After all, in-camera wizardry isn't often recognized by a visual effects branch that likes to award innovative CGI.  Then again, after the VES nods were announced two years ago, I might have thought "I Am Legend" was set for a nomination.
The big winners throughout are, of course, Paramount's "The Curious Case of Benjamin Button" and "Iron Man."  The former is still looking strong to walk away with the Oscar in about a month.
The awards will be handed out on February 21.  "Button" producers Kathleen Kennedy and Frank Marshall have already been announced as lifetime achievement award recipients.
The nominees (I'm just listing the film categories):
Outstanding Visual Effects in a Visual Effects Driven Motion Picture
"The Chronicles of Narnia: Prince Caspian"
"The Curious Case of Benjamin Button"
"Cloverfield"
"Hellboy II: The Golden Army"
"Iron Man"
(more categories after the jump)
Outstanding Supporting Visual Effects in a Motion Picture
"Changeling"
"Eagle Eye"
"Nim's Island"
"Synecdoche, New York"
"Valkyrie"
Outstanding Animation in an Animated Motion Picture
"Bolt" (The chase)
"Kung Fu Panda" (Everybody was kung fu fighting)
"A Matter of Loaf and Death" (Piella's mansion)
"WALL-E"
Best Single Visual Effect of the Year
"Cloverfield" (Statue of Liberty crash and Woolworth Tower collapse)
"The Curious Case of Benjamin Button" (Benjamin's secret)
"The Day the Earth Stood Still" (Newborn Klaatu)
"Indiana Jones and the Kingdom of the Crystal Skull" (Valley destruction)
"Iron Man"
Outstanding Animated Character in a Live Action Motion Picture
"The Curious Case of Benjamin Button" (Benjamin Button)
"Hellboy II: The Golden Army" (Elemental Sequence)
"Iron Man"
"The Spiderwick Chronicles" (Hogsqueal)
Outstanding Animated Character in an Animated Motion Picture
"Bolt" (Various sequences — Bolt)
"Bolt" (Various sequences — Rhino)
"Kung Fu Panda" (This kung fu stuff is hard work — Po)
"WALL-E" (WALL-E and EVE truck sequence)
Outstanding Effects Animation in an Animated Feature Motion Picture
"Bolt"
"Kung Fu Panda"
"Madagascar: Escape 2 Africa"
"WALL-E"
Outstanding Matte Paitings in a Feature Motion Picture
"Changeling"
"Indiana Jones and the Kingdom of the Crystal Skull"
"Speed Racer"
"Synecdoche, New York"
Outstanding Models and Miniatures in a Feature Motion Picture
"The Dark Knight" (garbage truck crash models and miniatures)
"Indiana Jones and the Kingdom of the Crystal Skull"
"Iron Man" (suit up machine)
"My Darling of the Mountains" (hot springs)
Outstanding Created Environment in a Feature Motion Picture
"Cloverfield" (Brooklyn Bridge sequence)
"The Dark Knight" (IMAX Gothan City scapes)
"Indiana Jones and the Kingdom of the Crystal Skull" (temple heart)
"The Mummy: Tomb of the Dragon Emperor" (avalanche sequence)
"Synecdoche, New York" (created environment)
Outstanding Comopositing in a Feature Motion Picture
"The Chronicles of Narnia: Prince Caspian"
"The Curious Case of Benjamin Button"
"Iron Man"
"Quantum of Solace"
Outstanding Special Effects in a Motion Picture
"The Dark Knight"
"The Dark Knight" (garbage truck crash mechanical effects)
"Defiance" (special effects)