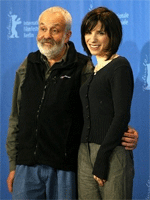 As you know, one of the many things that aggravated me about this year's BAFTA nominations was the pointed shut-out of Mike Leigh's "Happy-Go-Lucky." The snub extended to lead actress Sally Hawkins, who has torn through the critics' awards on the other side of the Atlantic and stands a sizeable chance of landing an Oscar nod on Monday morning — as does Leigh himself, for that matter.
The Independent recently did some digging into the snub, and has found that a number of Leigh's peers and contemporaries are similarly shocked by the omission. Venerable critic Barry Norman (something of a British institution) is particularly outraged, hailing "Happy-Go-Lucky" as the equal of BAFTA-garlanded "Slumdog Millionaire," and going so far to label Leigh "a prophet without honour," less appreciated in his homeland than he is elsewhere.
Of course, Leigh has won three BAFTAs in his career, so perhaps that's getting a little dramatic. Nonetheless, the article wonders whether this year's snub could be put down to a BAFTA grudge against the famously candid filmmaker, who has criticised the organisation's voting methods in the past.
Hmmm. Ultimately, interestingly enough, it is "Slumdog Millionaire" scribe Simon Beaufoy who might have hit the nail closest to the head when he says the film was a victim of "traditional British suspicion of optimism" — something which I think accounts for the film's polite but less-than-ecstatic critical reception here. It's also a precise echo of a sentiment Eddie Marsan voiced in my October interview with the actor:
"I thought the film might go down well in America — better, even, than at home — because they're not quite as cynical as the British. I think they're more willing to buy into an optimistic character."
BAFTA chairman David Parfitt, of course, is having none of it, suggesting simply that the film opened too early in the UK. More weirdly (and rudely), he also implies that Hawkins' Golden Globe win should be taken with a pinch of salt:
"The Globes are chosen by a bunch of foreign hacks, and there's only around 50 of them. We are 6,000 industry professionals."
What exactly are you trying to say here, Mr. Parfitt? That the verdict of the BAFTAs — the organisation which, may I remind you, apparently believes that "Mamma Mia!" is a better British film than "Happy-Go-Lucky," and that Freida Pinto is more deserving than Viola Davis — is somehow more valid and credible than that of the Globes, because of sheer voting numbers? It strikes me as an unnecessarily childish take, and an unnecessarily hurtful dig at a British star's success, but whatever.
When all is said and done, "Happy-Go-Lucky" is one of those occasional British films that played better away from home. To what extent, we'll find out on Thursday morning.