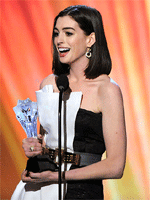 Last week, I wondered whether Mickey Rourke's eccentric, yet moving, acceptance speech at the Golden Globes could bolster his chances with the Academy. It may sound like a trivial concern, but the fact remains that Rourke's speech was a talking point, a bona fide 'moment' that made for great TV — and if Roberto Benigni has taught us anything, it's that onstage personality goes a long way with the Academy. In a tight race, the promise of a memorable acceptance can be just enough to push a contender past the finish line.
Now, Dave Karger is addressing the flipside of the question, and asking whether the relatively sloppy acceptance speeches of Anne Hathaway and Kate Winslet, at the BFCA Awards and Golden Globes respectively, could actually damage their Oscar campaigns:
Upon sharing the Critics Choice prize with her idol, Meryl Streep, Hathaway — who certainly meant to say this a bit more artfully — said it was "fitting" that she tied for the prize with Streep since she thought the Doubt star was the best actress around. But it came off condescending to all the other actresses in the room, particularly her category-mates like Angelina Jolie and Melissa Leo. The usually composed Winslet, meanwhile, nearly had a heart attack when she won her two Golden Globe prizes. To many people, the reactions seemed over-the-top. Or worse, fake.

It must have been overwhelming for both of them to hear their names called. But on the other hand, let's remember that both of these awards are handed out by groups of journalists, for God's sake — people that big stars like Hathaway and Winslet usually don't give a hoot about. Why should they then fall to pieces over what those journalists think about them?
I must say, while I agree that both ladies' acceptances were fairly excruciating, I can't see the Academy voters being particularly bothered by the matter. If anything, it probably helps them: voters clearly like visible emotion onstage, and there's a long line of weepy, snivelling Best Actress winners, from Sally Field to Gwyneth Paltrow to Halle Berry, to prove the fact.
All gave messy, faintly embarrassing speeches, but crucially, they appeared genuinely grateful for the award — and gratitude goes a long way with the Academy. Last year's Best Actress race was a case in point: while initial frontrunner Julie Christie was classy, cool and entirely unfussed in her acceptance speeches on the precursor circuit, Marion Cotillard's emotional near-breakdown at the BAFTAs made her the name on everybody's lips. While other factors were surely in play, the French thesp gave the appearance of wanting it more … and duly bagged the Oscar.
Say what you like about Hathaway and Winslet's respective speeches, but their gratitude was plain to see. And I suspect that made a lot of Academy members smile — even as they were cringing.