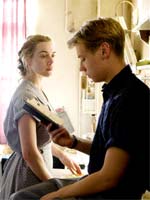 You'd think an artist as established as Sir David Hare might, in the course of his long career, have learned to take a bit of criticism in his stride. However, amid a rather odd flare-up between the venerable British playwright/screenwriter and Guardian critic Peter Bradshaw, Hare comes off looking decidedly thin-skinned.
The source of conflict is Bradshaw's savage (though I think rather astute) review of the Hare-penned "The Reader." Despite his admiration for the craftmanship on display and the performance of Kate Winslet, Bradshaw disliked the film intensely, objecting that it exploited the Holocaust to lend gravitas to "a middlebrow sentimental-erotic fantasy." It's a complex (and spoiler-ridden) piece that can't easily be summarised, but Bradshaw's closing paragraph offers the nub of his argument:
I can't forgive this film for being so shallow and so obtuse on such a subject, and I can't accept it as a parable for war-guilt-by-association suffered by goodish Germans of the next generation. Under the gloss of high production value, under the sheen of hardback good taste, there is something naive and glib and meretricious. It left a very strange taste in my mouth.
Bradshaw isn't alone; you may remember that the New York Times' Manohla Dargis had some similar qualms about the film's take on Holocaust, accusing it of "embalm(ing) its horrors with artfully spilled tears."
However, in an onstage interview last week at the BFI Southbank, Hare lashed out at such critics with some vigour. Rather defensively, he describes the film as being "especially original for being about those who were born in the shadow of the crime," while in the following statement, he takes on Bradshaw directly (spectacularly missing the point of his argument, I think):
Now it turns out that a few broadsheet film critics in Britain do indeed belong to a category of people who would have resisted Hitler when he came to power. So the great shame is, clearly film critics should have been running Austria at the time, because Hitler would have represented no problem to them at all. Peter Bradshaw would have known exactly what to do, and he would not have been remotely fallible to any Nazi who threatened his life. No, he would have died in heroic acts of individual resistance. So it's a privilege to live among people who enjoy such moral certainty.
Not to be outdone, Bradshaw has hit back with a lengthy rebuttal, chiding Hare for what he perceives as a glibly sarcastic response, and reiterating that, "In taking on the Holocaust, ("The Reader") bites off more than it has any intention of chewing." It's worth a read, whatever side of the fence you're on — in this very dull season, it's nice to have a film capable of stirring debate, whatever its merits.