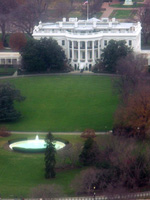 Way off topic for a moment, but I am Canadian, proud of my country, happy to be here, though I confess to having always been fascinated with American history and politics. There are many friends of mine in the United States and I enjoy visiting whenever I can. Cocoa Beach, Florida is a popular destination for my family and Los Angeles is always great fun.
I was four when JFK was killed and vaguely remember my parents being visibly upset at something around that time. As I grew older I was most aware, and deeply saddened when Martin Luther King Jr. was killed and watched the train carry RFK home, tears streaming down my cheeks for reasons I did not understand. Watching Nixon resign was bittersweet because I always believed he had it in him to be a great President (and indeed proved to be a great Statesman), and watched with great interest when George Dubya was "elected" in 2000.
Never in my lifetime did I expect an African-American to be elected President of the United States. There would always be too much racial hatred, too much anger, too much prejudice. What a pleasant shock to find that was not true, that people really wanted a change. To quote "2010": "Something's happening…something wonderful."
We are in the midst of witnessing history this week, seeing something extraordinary. In remarkable recognition of what might have been, Obama's own children stated it would have been just as exciting to have seen Hilary Clinton win and a woman lead the United States.
I am staying home Tuesday because I want to see history as it happens.  And I welcome Obama's chance to take America into the next stage of their greatness.
And I have every confidence he will do just that.