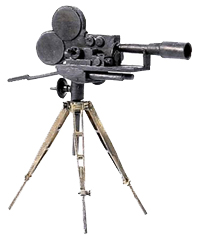 The past week has been exceptionally good to Stephen Daldry's "The Reader" on the awards circuit.  The film followed up its five Golden Globe nominations with the same number from BAFTA, not to mention Kate Winslet's BFCA and Globe awards for her performance as Hanna Schmitz.
I recently had the chance to speak to several of the individuals who have helped to bring the film to life from behind-the-camera: production designer Brigitte Broch, costume designer Ann Roth, makeup artist Ivana Primorac and cinematographers Chris Menges and Roger Deakins.  All five artists look back on "The Reader" fondly but they all nevertheless share a principal theme in their recollections: delay.
Conflicts with his contractual obligations on "Doubt" meant that Deakins had to leave the production with the vast majority of the film left to shoot.  Menges says he then found himself torn upon receiving an offer to step in.
"I first met Roger in the 1970s when he left school," he recalls.  "He's been to my home in Wales several times.  Roger shot 31 days of the film and I did 65.  Principally, I've never done it before but because I knew Roger and respect his work, it was not as difficult as it could have been.  Obviously, I do some things differently, but the principle that Roger and I adhere to is that the visual power of the film obviously comes from working closely with the director.  No D.P. has won an Academy Award without working with a director who has great visual flare."
Putting aside any challenges that may have resulted from the switch in cinematographers, Primorac remarks on the numerous challenges that arose while shooting.  But she admired her director's perseverance.
"I've worked with Stephen Daldry on everything he's filmed," she says.  "Nothing is ever straight forward with him.  But on 'The Reader,' everything that could go wrong did go wrong.  The amount of delays we had, which were beyond our control, was excruciating."
Menges expands on that, noting, "I started with Ralph for about two weeks before the Christmas hiatus, about a month-and-a-half after Roger left.  On New Year's Day, we heard that Nicole Kidman was pregnant, so I went back to do some more stuff with David Kross and the prison governess."  Production was held up as Kidman's replacement, Kate Winslet, prepared for the part.  "The final hiccup," Menges continues, "was right when we were going to do the lovemaking scenes in Hanna's flat and the producers said we couldn't do it until David reached 18."
Roth describes the last 12 months as "hellish," less because of production troubles on "The Reader" than the portfolio-bursting year 2008 proved to be for her.  In addition to costuming "The Reader," she was also responsible for the threads on Phyllida Lloyd's "Mamma Mia!" and John Patrick Shanley's "Doubt."  She had agreed to do "The Reader" years before it started filming and called producer Anthony Minghella as soon as she was offered Universal's ABBA musical adaptation to make sure she did not double book herself.
However, things did not work out as planned.  After designing a wardrobe for Kidman, she soon found herself having to adjust for the arrival of Winslet.  "Kate was worried," Roth recollects.  "I think she was worried I was going to use Nicole's costumes on her.  Instead we had to go through the same process in the fitting room."
In spite of the production's rocky road to fruition, respect for Daldry clearly remains paramount in the eyes of the crew.
"Stephen is very much a people person and loves what he does," Broch explains.  "He has a clear point of view but has an extraordinary record of accepting suggestions.  He's also easy to work with as he is so involved in the subject that it is easy to follow with his extraordinary amount of energy."
Each of the artist's also recalled personal obstacles they faced in their work.  "We needed to make sure that young Michael could believably turn into Ralph Fiennes," Primorac explains.  "We also needed to make sure an actor like Fiennes could talk to Winslet, covered in prosthetics, believably.  The challenge was to tell and not disturb the viewer as the less people talk about the makeup, I'm most satisfied about it, because it means belief in actors."
In addition to the hiatuses, Menges adds that "shooting in the winter in Germany was a huge challenge; it was very dark and grey and we had to get around that.  The scenes of when Hanna and Michael first meet were also difficult.  They had to be done very tastefully and there was so much controversy surrounding them due to the producers."
"Before shooting, there was a meeting with just five of us," Primorac says.  "The director, the D.P., the production designer, the costume designer and me – sitting in a room asking, 'How do we do this?'  There were times we were testing makeup in New York and I thought to myself, 'I can't do this without Chris Menges,' because I had no idea how it would look after shooting."
During production, Menges notes that he is very hands-on and that it is important for him to operate the camera.  "I do my best work in collaboration," he says, "but I try to be persuasive.  The relationship between the D.P. and production designer is of huge importance.  My relationship with others is one of spontaneity."
On the issue of feeling underappreciated in Hollywood, Roth says, "You could accuse me of being a lot of stuff but ambitious is not something I am.  What's important for me is building great working relationships and having fun.  I've worked for Mike Nichols, for instance, for 43 years.  I'll admit that sometimes I'm not fresh and, on occasion, when the script is so bad that I have to keep myself awake, I'm even willing to spice up the play or film with excessive glamour.  But I don't feel underappreciated."
Says Primorac, "On films like 'The Reader' and 'The Hours' and 'Cold Mountain,' I feel like I'm part of the crew."  She finds herself in an incredibly difficult field for AMPAS recognition because the makeup category only has three nominations a year, but says that's okay.  "I've never felt cheated," she says.  "I feel very very honored to have made the bake-off for the third year.   But looking at the list, there's not a weak link.  I feel really flattered."
Menges is not one to shy away from complimenting peers who he feels are underappreciated.  "A few D.P.s like Chris Doyle, whose work really soars and makes a major contribution to the success of a movie, can't seem to find the credit they deserve," he says.  "D.P.s aren't important to studio in the sense of actors, directors, writers.  The head of the studio may fawn to those people and ignore the D.P.  But that doesn't make you want to stop doing what you do.  It's not really material."
Menges took about a decade off from cinematography from 1986-1996 to try his hand at directing.  He calls that spell a "rough ride," adding, "My first and third films were very successful.  My second was not and my fourth was a disaster. It's not really about luck; it's about good writing.  I was really lucky because the film that helped me get back into it was 'Michael Collins.'  Neil Jordan is an old and close friend of mine.  It helped me get nominated that year and helped me get back in."
When I comment how the below-the-line crafts artists, who bring movies to life, never get the attention of actors and directors, Roth says, somewhat surprisingly, "That's how it should be.  People goes to the movies because they want to be entertained by the director and the star.  My job is to make their job easier."
In closing on "The Reader," both Broch, Primorac and Menges make it a point of commenting on how the story effected them on personal levels.  "I guess my biggest challenge was myself because I'm from the same generation as Bernard Schlink," Broch explains.  "I fled Germany because of those reasons; we didn't know what to do with our parents and the silence.  I was so ashamed about what had happened.  I went to Mexico, and now live in Spain, but I had to confront own past and the past of my parents.  I finally felt that I could make peace with my own past by simply confronting it."
Primorac agrees, adding, "Most of all, I'll take with me the fact that I've done so much research and thinking about the subject matter and the history.  Every day, atrocities are in the news and we're faced with it in modern politics.  I think we should all be thinking of atoning for our past sins."
And finally, Menges notes, "I think I'll be a little closer to understanding what happened to Germany when I was a kid living in London.  I'm a little bit closer to knowing something about my grandfather, who was German, and understanding what happened with the Third Reich."
CLICK HERE for four exclusive costume sketches from "The Reader"