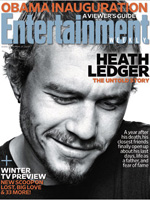 Entertainment Weekly's current cover story is a somewhat engaging retrospective on the career of Heath Ledger through the words of his friends and collaborators.  The first story of its kind to date, the piece is a nice idea given that Jan. 22 is both the anniversary of Ledger's unfortunate death and the day he will likely nab a posthumous Oscar nomination for his work in "The Dark Knight."
My only beef with the story is the insistence on either writers Josh Rottenberg and Cristine Spines, or their editor (can't be sure which), to fish out the most US Weekly-brand quotes from some of these people, splashing suspicion on the drug use about (though director Terry Gilliam refutes that at one point), leaning heavily on talk about Ledger's insomnia and basically painting a much more morose portrait than was really necessary.  It's a tough, sad read as a result.  But it's solid and, like I said, unique.  Here are some highlights:
"The Patriot" co-star Mel Gibson:
His audition for The Patriot was rough. But he got the gig because of some kind of honest thing that was intrinsic to him. He was just authentic and sincere. I don't think he knew the power he had already. So he'd work himself up into an angst situation, trying to get at things that were already there. You almost wanted to say, "Dude, just calm down and be yourself. It's good."
"Monster's Ball" director Marc Forster:
When he read the script, Heath said, "Look, I get this character. I totally understand him. I'll come down there and breathe in that world." He wanted to try something different, something where the movie wasn't resting on his shoulders. The one thing he said was, "I'm not going to participate in the promotion of the movie. I'm just going to come in and focus on the acting."
"Four Feathers" co-star and friend Wes Bentley:
Heath didn't give himself enough credit for his talent as an actor. He didn't know what he had so he decided to enjoy what was being offered to him. I wanted to explain to him, "Please wake up to how great you are." He didn't have any classical training. He didn't have anyone making him feel like he had credibility. The only voice he listened to was his own self critic, because it was the loudest.
And finally, this sobering remark from Gilliam:
I was in Vancouver, and there was a computer with a BBC website and it says, "Heath Ledger found dead." My immediate response was, "It's a f—ing Warner Bros. publicity stunt for the Joker!" We kept looking at the computer thinking it was going to change. But it wouldn't go away…We're cutting Parnassus now, so it's like I work with Heath every day. He's in fine shape, at least in the world I'm inhabiting at the moment. It just doesn't make sense. Every day goes by and I think, He'll be back in a second.
Read the rest of the piece here.