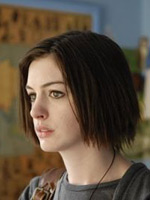 Rarely does the lead actress category provide more suspense than leading gentlemen and rarely is it as packed with fine performances as it is this year.  I can remember years when it was a struggle to come up with five nominees for best actress, 1975 and 1992 springing to mind.  It might have less to do with quality female performances than it does the amount of quality female roles Hollywood provides.
But the Academy won't have any trouble this year.  There are going to be excellent performances left off the list of nominees this year due to uncharacteristically heated competition, that is a sad fact, and there is not a thing anyone can do about it except continue to love and support the performances snubbed. In fact it is not even that they will be snubbed, it's just that there is only room for five ladies, and this year, selecting those final five must be proving an enormously difficult task for the Academy.
With her two Golden Globe wins, Kate Winslet seems to be a shoo-in for her superb performance in "Revolutionary Road," a truly heartbreaking piece of acting that is sadly underseen at the moment.  Meryl Streep, meanwhile, will be nominated for the 15th time for her tyrannical nun in "Doubt" and Anne Hathaway will get a welcome to the big show for "Rachel Getting Married," in which her caustic turn as Kym has altered the course of her career and announces her as a serious actress in the industry.
And then it becomes tricky — those final two spots.
Sally Hawkins deserves to be nominated for her wonderful performance in "Happy-Go-Lucky" and now is armed with the Golden Globe for Best Actress in a Comedy or Musical, but will enough Academy members have seen the film to nominate her over Angelina Jolie, who was terrific in "Changeling?"  Furthermore, Hawkins won't have the Brits on her side, which certainly helped push "Atonement" into the final five last year: she was snubbed by BAFTA.   Jolie, meanwhile, has the advantage of being among the most famous women on the planet, working for a beloved director in a film they may honor with this solitary nomination.
Though I have disliked just about everything else she has ever done, I cannot deny that Kristen Scott Thomas deserves to be nominated (and perhaps win) for her haunting work in "I've Love You For So Long" as a woman just out of prison for murder trying to reconnect with her family and society.  Thomas is breathtaking in the role, giving one of the greatest film performances ever, but I fear she won't make the cut.
Melissa Leo, adored by the critics in "Frozen River," is also deserving of a nomination.  But the category is getting full.
Could Winslet be nominated for "The Reader" only?  Not likely, seeing as her work in "Revolutionary Road" is simply too good to ignore and the Academy has an opportunity to recognize her performance in Stephen Daldry's film in the supporting field.
There is no chance that Streep will be snubbed (famous last words).  She is revered by the Academy and gave a fine performance (not her best), but truth be told, Thomas and Leo should be there before her.
Hathaway gave such a different performance, breaking down the image audiences had of her with a scalding piece of work, brave and fearless. Though I think the Oscar belongs to Winslet, it wouldn't surprise me one bit if Hathaway walked away with it.
Jolie could be the actress left off the list, and as we get closer to the announcement, I personally don't think she'll be nominated.  She was excellent in the film, but again, not as strong as Leo, Thomas or Hawkins.
Thursday morning I suspect it will look something like this: Streep, Hathaway, Winslet (also for supporting), Hawkins and Leo.  Thomas will have to be happy with the finest reviews of her life and a performance that will be discussed for years to come.  At least she is in good company.  Michael Douglas felt the sting in 2000 when his lauded work in "Wonder Boys," a performance many felt was Oscar-bound, was unceremoniously snubbed.
What is exciting this year is the number of excellent roles for women, not just as leads but in the supporting category as well.  There is a change happening.  Can you feel it?  As she nears 60, Meryl Streep is among the top box office draws on the globe thanks to performances in "The Devil Wears Prada" and "Mamma Mia!"  With up-and-coming writers like Jenny Lumet writing strong parts for women, we could see wonderful work like 2008's crop for year's to come.
Who are your predicted five Best Actress nominees?  Tell us in the comments section below!