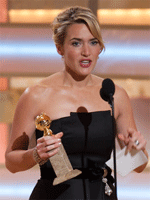 Sorry the Weekly Wrap feature has been M.I.A. these past few weeks — between the holidays and various disasters, they got a bit forgotten. Anyway, it's back this week, and what a busy week it was:
• In a new annual institution at IC, Kris reviewed the top 10 shots of the year here … and here.
• The Golden Globes threw up several surprises, but the biggest one was what a deeply satisfying evening it was.
• Following that ceremony, this week's Off the Carpet column wondered whether the Oscars can measure up.
• While the Globes gained credibility, BAFTA threw theirs to the wind with a curious slate of nominations … though "Slumdog Millionaire" once more sits pretty.
• But for omitting "Gomorrah" from their 9-film shortlist, AMPAS' foreign-language committee earns this week's biggest dunce cap.
• The American Cinema Editors revealed their nominees. Everyone yawned in unison.
• Meanwhile, the costume designers completed this year's guild citations.
• Taking a breather from the precursor beat, we got chatting to the delightful Amy Adams.
• The Sundance Festival started this week … but is anyone watching?
• In other film festival news, Berlin has announced some intriguing premieres.
• Finally, with whispers circulating that "Gran Torino" could spoil in the Best Picture race, how much of a Best Actor threat is Clint Eastwood?