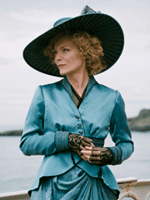 New works from Costa-Gavras, Bertrand Tavernier and Andrzej Wajda are among the 14 titles that have just been added to the Competition programme at next month's Berlinale, meaning 25 of the 26 slots have been confirmed.
The most high-profile inclusion, however, is Stephen Frears' period romance "Chéri," which was at one point mooted as a 2008 release with an eye on awards season, before getting bumped. It's a film I've been excited about for some time, not least because it's something of a "Dangerous Liaisons" redux, reuniting the director, writer (Christopher Hampton) and star (Michelle Pfeiffer) of that 1988 Oscar-winner, again within the context of a French-set costume drama.
An adaptation of Colette's novella about an affair between a young man and a decades-older woman in 1920's Paris, it strikes me as an ideal proposition for both director and star. A new Frears film is always worth noting, but I find his work rather more interesting  when he's visiting themes of taboo and desire (the aforementioned "Liaisons," "Prick Up Your Ears," "The Grifters").
Meanwhile, Pfeiffer — still, I think, arguably the greatest of her generation — hasn't had a project equal to her gifts in over 15 years. Could this be one to keep an eye on for next year's awards derby? It's ridiculously early to be thinking about such things, but don't forget that one of the big winners at last year's Berlinale was a certain Ms. Sally Hawkins. However oddly positioned, it's always a festival worth paying attention to.
Among the other intriguing titles set to bow at the fest, which will be opened by Tom Tykwer's "The International," is "Rage," the latest from avant-garde UK auteur Sally Potter, with an eclectic cast including Jude Law, Judi Dench and Steve Buscemi. Another impressive ensemble (Robin Wright Penn, Alan Arkin and Julianne Moore, to name but three) features in Rebecca Miller's "The Private Lives of Pippa Lee," while Lukas Moodysson's "Mammoth," starring Gael Garcia Bernal and Michelle Williams, has long been one of my most eagerly anticipated films of 2009.
For a complete list of the Competition entries so far, check out the press releases here and here.