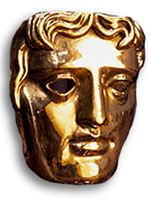 Each year, the BAFTAs never fail to find new and frustrating ways to surprise me.
It wasn't hard to guess that "The Curious Case of Benjamin Button" and "Slumdog Millionaire" would come out on top here — though even as a fan of the latter film, I do wonder whether nominations for Best Production Design and Best Supporting Actress are pushing it a little. (Sure, Freida Pinto is gorgeous, but… )
But look closer and the oddities come thick and fast. Who would have guessed, come nomination morning, that "Changeling" would land 8 nominations (including mentions for Best Director and Best Original Screenplay), while "Happy-Go-Lucky" gets zilch? I was aware that Mike Leigh's delightful film has played better with critics Stateside than it did over here in the spring, but failing to even nominate Golden Globe winner Sally Hawkins is a blatant — and in my opinion, unforgivable — slap in the face.
As I predicted, despite the film's mixed reception, BAFTA voters responded well to "The Reader," which lands in the Best Film derby alongside four of the Oscar favourites in the category. While I thought "Milk" might miss with the Brits, it was actually "The Dark Knight" that came up short — and while I'm not entirely surprised that it proved too genre-oriented for their top category, their failure to nominate Brit helmer Christopher Nolan is pretty stunning.
Bar the Hawkins snub, the acting categories name most of the usual suspects, though there's still room for typically BAFTA-esque eccentricities. Brendan Gleeson is an pleasant surprise in the Best Supporting Actor category, and while I anticipated Brad Pitt's appearance in that field for "Burn After Reading," Tilda Swinton's Supporting Actress nod for the same film is the kind of out-of-nowhere hometown favoritism that only BAFTA can come up with. The real headscratcher in that category, however, is Amy Adams' inclusion at the expense of Viola Davis — one has to wonder whether voters actually watched "Doubt," or voted on name recognition alone.
(More thoughts, and the full list of nominees, below the cut.)
The overall impression one gets, however, is of an awards body still in a state of identity crisis — torn between honouring their own and inviting Hollywood to the red carpet. The former urge is still apparent in the overwhelming welcome given to a widely frozen-out film like "The Reader," as well as bizarre sidesteps like that Swinton nod. The latter, however, manifests itself in an open invitation (or should that be plea?) for Brangelina to grace their red carpet, which leaves outstanding (but less familiar) local thesps like Hawkins and Michael Fassbender on the sidelines.
But it's a moot point. "Slumdog" will likely sweep the board at the Royal Opera House on February 8, taking advantage of the fact that a British-grown film hasn't been the belle of the awards-season ball in a good few years. Meanwhile, it's likely that Kate Winslet will convert one of her two Best Actress nominations (my money's on "The Reader"), unless vote-splitting hands it to compatriot Kristin Scott Thomas. So British talent will inevitably be well-served on BAFTA night. Whether the right British talent is getting represented is another matter altogether.
Best Film
"The Curious Case of Benjamin Button"
"Frost/Nixon"
"Milk"
"The Reader"
"Slumdog Millionaire"
Best British Film
"Hunger"
"In Bruges"
"Mamma Mia!"
"Man on Wire"
"Slumdog Millionaire"
Best Director
Clint Eastwood, "Changeling"
David Fincher, "The Curious Case of Benjamin Button"
Ron Howard, "Frost/Nixon"
Stephen Daldry, "The Reader"
Danny Boyle, "Slumdog Millionaire"
Best Actor
Frank Langella, "Frost/Nixon"
Dev Patel, "Slumdog Millionaire"
Sean Penn, "Milk"
Brad Pitt, "The Curious Case of Benjamin Button"
Mickey Rourke, "The Wrestler"
Best Actress
Angelina Jolie, "Changeling"
Kristin Scott Thomas, "I've Loved You So Long"
Meryl Streep, "Doubt"
Kate Winslet, "The Reader"
Kate Winslet, "Revolutionary Road"
Best Supporting Actor
Robert Downey Jr, "Tropic Thunder"
Brendan Gleeson, "In Bruges"
Philip Seymour Hoffman, "Doubt"
Heath Ledger, "The Dark Knight"
Brad Pitt, "Burn After Reading"
Best Supporting Actress
Amy Adams, "Doubt"
Penelope Cruz, "Vicky Cristina Barcelona"
Freida Pinto, "Slumdog Millionaire"
Tilda Swinton, "Burn After Reading"
Marisa Tomei, "The Wrestler"
Best Original Screenplay
Joel and Ethan Coen, "Burn After Reading"
J. Michael Straczynski, "Changeling"
Martin McDonagh, "In Bruges"
Philippe Claudel, "I've Loved You So Long"
Dustin Lance Black, "Milk"
Best Adapted Screenplay
Eric Roth, "The Curious Case of Benjamin Button"
Peter Morgan, "Frost/Nixon"
David Hare, "The Reader"
Justin Haythe, "Revolutionary Road"
Simon Beaufoy, "Slumdog Millionaire"
Best Foreign Language Film (announced earlier)
"The Baader Meinhof Complex"
"Gomorrah"
"I've Loved You So Long"
"Persepolis"
"Waltz With Bashir"
Best Animated Feature
"Persepolis"
"WALL-E"
"Waltz With Bashir"
Best Production Design
"Changeling" (James Murakami; Gary Fettis)
"The Curious Case of Benjamin Button" (Donald Graham Burt; Victor Zolfo)
"The Dark Knight" (Nathan Crowley; Peter Lando)
"Revolutionary Road" (Kristi Zea; Debra Schutt)
"Slumdog Millionaire" (Mark Digby; Michelle Day)
Best Cinematography
"Changeling" (Tom Stern)
"The Curious Case of Benjamin Button" (Claudio Miranda)
"The Dark Knight" (Wally Pfister)
"The Reader" (Chris Menges; Roger Deakins)
"Slumdog Millionaire" (Anthony Dod Mantle)
Best Costume Design
"Changeling" (Deborah Hopper)
"The Curious Case of Benjamin Button" (Jacqueline West)
"The Dark Knight" (Lindy Hemming)
"The Duchess" (Michael O'Connor)
"Revolutionary Road" (Albert Wolsky)
Best Film Editing
"Changeling" (Joel Cox; Gary D. Roach)
"The Curious Case of Benjamin Button" (Kirk Baxter; Angus Wall)
"The Dark Knight" (Lee Smith)
"Frost/Nixon" (Mike Hill; Dan Hanley)
"In Bruges" (Jon Gregory)
"Slumdog Millionaire" (Chris Dickens)
Best Makeup & Hair
"The Curious Case of Benjamin Button"
"The Dark Knight"
"The Duchess"
"Frost/Nixon"
"Milk"
Best Music
"The Curious Case of Benjamin Button" (Alexandre Desplat)
"The Dark Knight" (Hans Zimmer; James Newton Howard)
"Mamma Mia!" (Benny Andersson; Bjorn Ulvaeus)
"Slumdog Millionaire" (A.R. Rahman)
"WALL-E" (Thomas Newman)
Best Sound
"Changeling"
"The Dark Knight"
"Quantum of Solace"
"Slumdog Millionaire"
"WALL-E"
Best Visual Effects
"The Curious Case of Benjamin Button"
"The Dark Knight"
"Indiana Jones and the Kingdom of the Crustal Skull"
"Iron Man"
"Quantum of Solace"
Carl Foreman Award (for debut British writers, directors and producers)
Simon Chinn (producer), "Man on Wire"
Judy Craymer (producer), "Mamma Mia!"
Garth Jennings (writer), "Son of Rambow"
Steve McQueen, (writer/director), "Hunger"
Solon Papadopoulos and Roy Boulter (producers), "Of Time and the City"
Orange Rising Star Award (announced earlier; voted by the public)
Michael Cera
Noel Clarke
Michael Fassbender
Rebecca Hall
Toby Kebbell