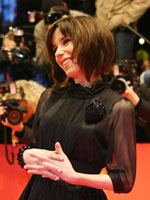 One of the biggest surprises from yesterday's BAFTA nominations announcement was the exclusion of "Happy-Go-Lucky" across the board.  But at the very least, awards watchers might have expected a nod for Sally Hawkins, who has been tearing up the precursor circuit stateside and has a clear shot at nabbing an Oscar nomination one week from today.
Daily Telegraph reporter Anita Singh cornered BAFTA chairman David Parfitt on the issue, and here's what he had to say:
It is always difficult. What's most interesting is what came sixth? We have 200-300 films under consideration each year and there are probably 100 serious contenders, and we can only have five nominees. I'm sure that Sally got close, just as I'm sure Mike Leigh got close. But we can't have everybody. Who would you drop out of the five? It's hard, really hard.
We might be saying the same thing about a certain Caped Crusader in a week if this last minute surge for "Gran Torino" and/or "The Reader" proves to be a major spoiler.
An Oscar colleague is always telling me, "One day someone is going to write one of the greatest industry books of all time, listing the Oscar nomination and winner voting tallies throughout the years."  That would make for fascinating reading indeed.  But do we really want to discover that "Chocolat" came in second to "Gladiator"'s Best Picture win?