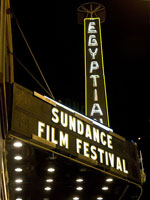 You can still find a number of Sundance prep pieces across the Web.  And it seems more and more, the geek press will be out in force, as they were at Telluride last September, much to the surprise of a number of industry folks.  So I was starting to be quasi bummed that I couldn't make the fest until that "Sundance is going to be a ghost town" stuff started to get louder and louder.
Karina Longworth tracked down a few journalists to find out why they're not going to Park City this year.  The reasons she came up with are the economy (duh), competing film festivals, the notion that New Media outlets getting the Sundance smackdown when applying for credentials, the Prop 8 protest and Sundance boycott and the fact that the trip just isn't worth "the pain in the ass."  And there's always the inauguration to consider, for those making the trek to Washington on Jan. 20.
Here's one feisty journo on the supposed harshness of the festival:
"Let's be honest," says Film Threat's Lewis. "Sundance is an enormous pain in the ass. That's not a knock against Sundance, it's a fact. It's cold, it's crowded, it's slippery, it's hard to find time to eat and sleep, there's thousands of looky-loos crowding the screenings, the movies are a total crap shoot and everyone ends up sick. As much as I'm sure I'll be sorry I missed it this year, as of right now, we're all kind of glad we aren't going."
Read all about it here.
I've never been to Sundance, but I'd love to go.  Typically I rail against the festival circuit because to me, it's the least ideal environment for viewing a film.  Not to mention the fact that studios have, by and large, seized these events as their own publicity tour stops, drowning out the innocence of competition that might have been.  Still, there are those that seem to shed this stygma.
With that in mind, I'll be covering this year's Santa Barbara Film Festival for 10 days starting Jan. 22.  I'll make the drive up the coast after we finish processing the Oscar nominations and will set up shop from there all week (with a short trip back Jan. 30 to cover the USC Scripter Awards Gala).  Tune in.