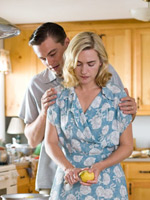 GENTLE SPOILERS WITHIN — READ WITH CAUTION
Fear of change, fear of risk.
"If you don't try anything, you can't fail," she tells him, striking at the heart of what has him so afraid of uprooting their family to Paris in the hopes of a better way of life.  Frank Wheeler is terrified of change, but his wife April longs for it.  She needs change to survive as a person, as a wife, believing, wrongly perhaps (perhaps not), that change will help her marriage and better define her place in it.
The characters in "Revolutionary Road" are in agonizing pain as they go about their daily lives, each trying to keep their marriage intact while also trying to live out their dreams.  Deep down, they must know their dreams have to be sacrificed to a degree.  Way down in their gut, they must know their dreams may never come true, and it is quietly destroying them.
Is "Revolutionary Road" a classic American film destined to be remembered for decades to come?  Or is it merely an over-praised, depressing work that will be forgotten once it hits DVD, a bizarre blip on the careers of the creators?  I tend to believe the former.  It is a sublime work of art and a demanding piece of cinema that takes audiences on a difficult journey through a rocky relationship that, for me, resembles the young years of George and Martha in Edward Albee's "Who's Afraid of Virginia Woolf?"
Bad marriages are stifling prisons, difficult to escape because of the enormous guilt attached to leaving, or the sense of defeat in giving up.  Sam Mendes gave us a powerful exploration of a marriage in crisis, wonderfully realized from Richard Yates's fiction.  It is a portrait of characters struggling with their immediate existence, knowing that defining that existence right now is essential for their future.  They are faced, finally, with the horrible knowledge that they are both trapped, perhaps doomed to play house for the next 40 years.
Leonardo DiCaprio and Kate Winslet deliver astonishing performances in the film.  One does not exist without the other.  The actors are in synch as artists.  I am believer that DiCaprio is among the most naturally gifted actors of his generation. There is not a word of dialogue from him that seems false or forced; his work is effortless and consistently strong.  He was brilliant as a young Howard Hughes in "The Aviator" for Martin Scorsese, and even better in "The Departed" as an undercover cop struggling with the dangers of his job.
His work 16 years ago in "What's Eating Gilbert Grape?" made it clear this was a young actor to be reckoned with, and though "Titanic" brought him enormous exposure, did it help or hinder him as an artist?  I remember watching him speak James Cameron's terrible dialogue and thinking, "He's making this work."  The same goes for Winslet, which to me is the sign of greatness, when an actor can take words, make them their own, and more importantly, make them sound as though it is positively natural.
The same thing happens with Frank Wheeler in "Revolutionary Road" as DiCaprio speaks language from another time and inhabits the character with every fiber of his being. There isn't a moment we do not believe him here.
Kate Winslet is heartbreaking as a woman watching a barrier form between herself and all of her hopes and dreams. She loves her children, but she sees no reason why she cannot be a mother and wife and live out her dream.  When Franks refuses to move to Paris, her reality becomes a hell, with April reduced to a shaking, angry woman realizing everything as based on a broken promise.  Her dreams won't be fulfilled…not now…not ever.  More than ever she is forced to realize she is ordinary, nothing special, not unique, not better than all of her friends, simple, ordinary, one of a million, not one in a million.  Winslet allows us to feel her pain, to witness her anger, to see her desperation.
The supporting cast is superb, from Michael Shannon's eerie mental patient, who walks in and spouts the subtext of this turbulent marriage, to Kathy Bates, who gingerly walks on glass, the existence April sees herself heading towards.
Both Frank and April commit adultery, each wounding the other, until a decision is made, a sacrifice. Their final sequence together is wrenching as we see one of them agreeing, quietly, and without ever saying so, to accept the life that has been set out.  But it won't end with that begrudging acceptance.  A stunningly selfish act is yet to be committed, one that will impact both lives forever.
What astounds me is how anyone can watch this film and not be moved, not be overwhelmed with the sudden swiftness of a life altered.  What is it about this film that is distancing audiences and many critics?  For me, it is a haunting work of art.  I have thought of little else since seeing it.
Some of the complaints I have heard and read focus on the fact that we never see the couple in their younger days, happy. Trust the script, trust the filmmaker to take us to this point in their lives.  Why do we have to see it?  They loved one another enough to marry, enough to have children and enough to decide to go to Paris on a whim.  Why do we have to have it spelled out for us?
Some marriages go horribly wrong.  I have seen friends walk that road and it is terrible.  Mendes challenges the audience to take a journey with him through a dysfunctional and bleak relationship with no easy outs.
Perhaps an Oscar win for Winslet will bring audiences to the film, allowing them to discover the work and celebrate its artistry.  Without some Oscar attention, I fear it is going to slip away.  Remember "Shoot the Moon," the finest film of Alan Parker's career?  The finest work by either Diane Keaton or Albert Finney?  Of course not.  A lack of awards attention allowed it to slip away.  It is possibly the finest film ever made about the impact of divorce on the family unit, yet so few people know it or have seen it.  How sad it will be if "Revolutionary Road" goes that way?
Sam Mendes, Kate Winslet and Leonardo DiCaprio have created a towering work that audiences simply are not yet ready for.  Not in these troubling times. But give it a while.  Perhaps they'll come around.