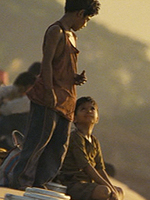 I'm hoping to make this an annual tradition here at In Contention.  It's no secret we have a lot of respect for below-the-line talent around these parts, but it's nice to have a visual way of showing that appreciation.  I sat down to write this piece for the first time last year, taken by the caliber of cinematography we had to bask in throughout the year and, indeed, the awards season.  The unusually high number of lensing achievements in 2007 left a slew of images to choose from and it was difficult whittling it down to 10.
This year the challenge was of a different sort.  The field was curiously thin.  It wasn't that the talent wasn't on display.  God knows, a number of the greats were lining up behind the camera this year.  But the images weren't as instantly iconic or as viscerally gripping as they were in 2007, which might have left me a bit disappointed on one hand.  Then again, it just made searching for my favorites all the more involved and interesting, and I'm happy to offer my findings to you in this space, even if it meant doubling up.
Yes, in one instance (an undeniable one, really), a certain film found two shots popping up on the list, and nearly three.  Another film also found itself close to a second mention, but I tried to keep a balance of honesty and fairness in place as much as possible.  If a film has two of the year's best shots, it has two of the year's best shots, right?
This year, things are slightly different.  Last time around, I got a few arbitrary quotes from lensers throughout the season and plugged them into the piece where they fit best.  This year, I sought out the various directors of photography to get their opinions on the specific shots in question.  Their insight, as always, makes for a better story and, indeed, more context for the reader.  I hope you enjoy reading their thoughts as much as I did collecting them.
So, I look forward to doing this each and every year I'm cranking out copy for your reading pleasure (or displeasure).  In my view, it is one of the best ways I can commemorate the technicians that so often find themselves overlooked this time of year.
So let's get on with the list…
#10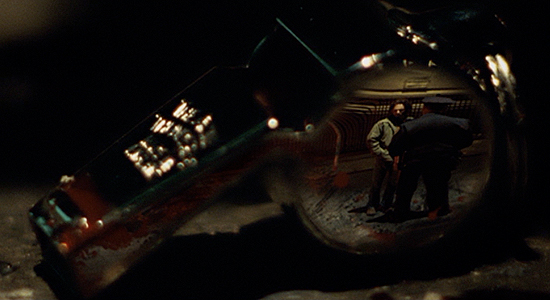 "MILK"
Director of Photography: Harris Savides
It's really simple and it wasn't planned at all.  We were shooting the scene and the last shot that night was a close-up of the whistle.  Gus and I were talking and we thought it would be great if we saw the whole scene in this whistle, and Gus made it happen in post.  They took one of the shots and put it in this shot, the close-up of the whistle we got.  I was surprised that it happened at all.  But that kind of stuff, especially with Gus, is very on the fly.  There's no storyboards.

–Harris Savides
Ask any working cinematographer who the two or three best lensers are in the game, you're likely to hear Harris Savides every single time.  In his collaborations with David Fincher, Jonathan Glazer and, prolifically, Gus Van Sant over the years, Savides has amassed a distinguishing visual portfolio that would likely catch the late Stanley Kubrick's eye.
Hopping behind the camera for the fifth time with Van Sant at the helm, Savides brought his distinctive sense of composition to the director's signature creativity yet again.  Perhaps one of the more straight-forward of their collaborations, the photography in "Milk" was nonetheless a well-implemented storytelling device for the life of San Francisco politician Harvey Milk.
The shot that stuck out to me when first watching the film might be considered too gimmicky to some, but I couldn't help a crooked smile at the playfulness on display.  I was later somewhat disappointed to learn, as the quote above reveals, that the shot was achieved through visual effects, but it wasn't enough to erase the image from my mind: a distressed Milk confronts a police officer following a violent night of gay-bashing in the Castro as a whistle — a plot point raised earlier in the film — lies blood spattered on the ground, reflecting the scene throughout.
#9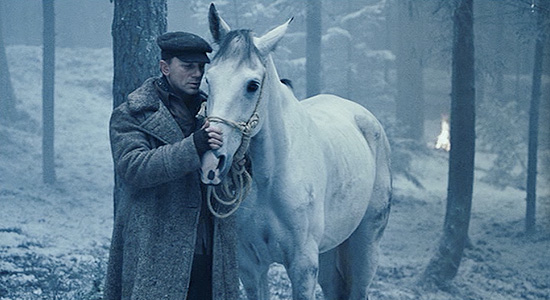 "DEFIANCE"
Director of Photography: Eduardo Serra
I like this shot very much as well because you have all that emptiness and Daniel is separated from the rest.  When you have all the snow, all the white around, you have reflections everywhere.  That creates a mood that's very special.  I didn't do anything with this shot other than giving the film a certain look using a specific film stock.  There's not much you want to do with lights because you have all this white.  I'm always very interested mainly by the storytelling rather than anything else.   It's very simple, there's nothing, no bells, no nothing, it's very simple.

–Eduardo Serra
Eduardo Serra cut his teeth on the French cinema of the 1990s.  He broke through to North American audiences with Michael Winterbottom's "Jude" and Iain Softley's "The Wings of the Dove," the latter earning him an Oscar nomination, before dazzling popular audiences with Vincent Ward's "What Dreams May Come" and M. Night Shyamalan's "Unbreakable."   But most remember him for his gorgeous work on Peter Webber's "Girl with a Pearl Earring" in 2003, which brought him Academy attention for a second time.
Serra has been director Edward Zwick's D.P. of choice for the last couple of years, lensing "Blood Diamond" in 2006 and, most recently, the World War II drama "Defiance."  In many ways Serra is a perfect fit for Zwick, who has proven himself quite attentive to the visual splendor of his films (lauded lensers Roger Deakins and John Toll have been frequent collaborators).
Serra's finest work in "Defiance" comes during the film's extended winter sequence, a detrimental time for the Bielski brothers and their patchwork community seeking asylum in the forest of Belarus in the early 1940s.  That detriment is paradoxically captured in the most beautiful blue-white hues as snow (both fake and real) covers the scenery.  But the shot that stuck out to me was both an interesting (and heartbreaking) plot point and the moment that really snapped me to the attention deservingly paid to Serra's photography.
#8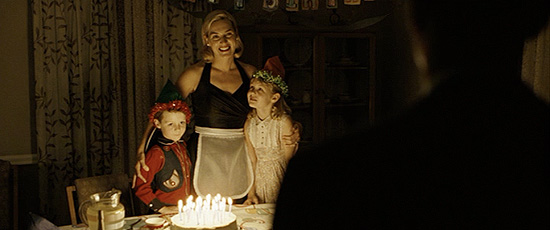 "REVOLUTIONARY ROAD"
Director of Photography: Roger Deakins
You kind of work the shot by what's demanded by the story.  The front of the shot is just Frank coming in the door and the exterior of the porch light that sort of rims him as he walks in.  It was an aesthetic reason because it helps set the mood of the shot.  We wanted this pool of warm light, sort of coming through this dark room and not knowing what you were going to expect.  It was about capturing the surprise of Frank seeing that scene and that mixed emotion.  And it wasn't lit entirely by the candles.  I asked the art department to make a cake that was big enough that I could hide a little gag light behind it.

–Roger Deakins
There are few lensers as salty, candid and talented as Roger Deakins, the most Oscar-nominated cinematographer of all time without a statuette to his credit.  He has worked with the greats, from Martin Scorsese to frequent collaborators the Coen brothers.  This year he sat behind the camera on three major productions: John Patrick Shanley's "Doubt," Stephen Daldry's "The Reader" and Sam Mendes's "Revolutionary Road."
"Road" is littered with an embarrassment of visual riches, an assemblage it seems only Deakins could deliver with such consistency.  But it was surprisingly difficult to settle on one frame that really stuck out, because unlike many of his works, the film is more memorable for its overall visual atmosphere than it is for this shot or that.  But I eventually settled on an eerie image, the camera tracking with Leonardo DiCaprio's Frank Wheeler after a day of infidelity, through the darkness to reveal his family, lit by birthday cake candlight to wish him a happy birthday.  The beauty and moodiness of the shot mixes together with the subtext of his recent actions in an unsettling way that was certainly intentional.
Deakins has filled in wonderfully as Mendes's D.P. of choice as of late, stepping into the massive shoes of lensing legend Conrad L. Hall.  But Deakins, who was close friends with Hall before Hall's death in 2004, says he considers it an incredible honor, for obvious reasons.  Most notable, however, is Mendes's talent for utilyzing the best in the business.
#7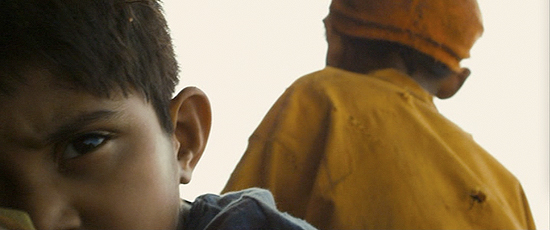 "SLUMDOG MILLIONAIRE"
Director of Photography: Anthony Dod Mantle
I like to experiment, but I only ever experiment because of the story.  We thought bringing him really close in the foreground would be good to create that distance between the two boys and create that dramatic comment.  One of them is thinking about something else and the other is simply thinking about surviving and moving on.   It's a sad image too because you can't help the connotation that these boys have lost their mom, you know.  And those things don't get storyboarded.  Generally speaking when you're working with Danny, every shot feels as important as every other one.  And that shot is an example of the way we work .  He'd have an idea for a picture and I'm there to help him as a visually trained composer of images — that's my job.

–Anthony Dod Mantle
Anthony Dod Mantle made his name alongside Thomas Vinterberg and Lars Von Trier during the Dogme movement of the late-1990s.  The naturalism at the forefront of Dogme's dogma nonetheless finds itself at incredible odds with the cinematic sensibilities of director Danny Boyle, who has worked with Mantle on three films since 2003's "28 Days Later."
Still, Mantle has found a way to let his background influence his work with filmmakers like Boyle and Kevin Macdonald in the most pleasantly surprising of ways, and such was the case on "Slumdog Millionaire," perhaps the most visually dynamic piece of cinema to be released in 2008.
Much like Deakins's work on "Revolutionary Road," Mantle's work here doesn't easily allow for one or two easily remembered images.  It is a construction of ideas that pop with life, camera innovations that are astounding and viscerally effective, but more across the board than selectively so.  I went back and forth on which image to choose, and I always came back to the same frame, young Jamal in the foreground, lost in thought and heartbreak as a young Salim looks toward renewed life in the background.  The moment comes during the film's energetic train montage sequence and really, I don't think I could add more than Mantle has in the quote above, so I'll leave it at that.
#6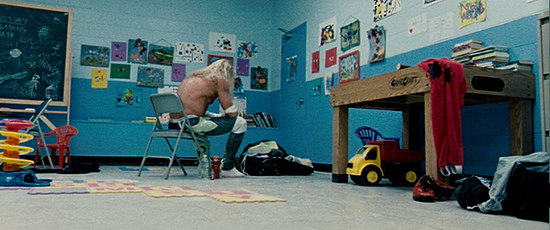 "THE WRESTLER"
Director of Photography: Maryse Alberti
The first time I spoke to Darren, it was very clear that the inspiration for the visuals of the film was in the work of the Dardenne brothers, who directed "Rosetta" and "L'Enfant."  That first shot was going to be much more complicated, a low, hand-held tracking shot that was going to move in on Mickey and turn around and start to discover his face.  We tried it and Darren decided it was much too complicated.  We decided to leave the camera in the back of the room with Mickey very small in the frame with his back to us and I think that right away it established the isolation of the character.

–Maryse Alberti
When director Darren Aronofsky went back to the drawing board on "The Wrestler," he shrugged off the sleekness of "The Fountain" and the indie-chic of "Pi" and "Requiem for a Dream" in favor of a much more naturalistic visual approach.  Hiring documentary lenser Maryse Alberti was a smart move in the realignment of his career and his newfound passion for performance.
"The Wrestler" is filmed in such a way as to invite the viewer into the life of Randy "The Ram" Robinson.  While Mickey Rourke is laying bare his soul on the screen, Aronofsky and Alberti are meeting him half-way with an affectionate portrait and a sense of realism that might remind the viewer of one of the many examples of cinematic non-fiction Alberti has filmed in her time.  The shots linger and observe, omniscient but intimate, obliterating the notion that a camera is even there.
The most powerful image is probably the opening frame, one packed with as much subtly as it is blatant thematic comment.  That it was a fall-back plan of sorts, and never prepared as such, is somewhat shocking considering the artistic merit it exhibits, but such is the essence of filmmaking, cooking imagery on the fly and tapping into the hidden truths that trimmed production fat can reveal.
Continue to part two and the top five shots of 2008

***
The Top 10 Shots of 2018
The Top 10 Shots of 2017
The Top 10 Shots of 2016
The Top 10 Shots of 2015
The Top 10 Shots of 2014
The Top 10 Shots of 2013
The Top 10 Shots of 2012
The Top 10 Shots of 2011
The Top 10 Shots of 2010
The Top 10 Shots of 2009
The Top 10 Shots of 2008
The Top 10 Shots of 2007