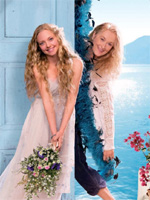 The BAFTA nominations drop tomorrow, and while I hardly covered myself in glory with my foreign film Oscar forecast yesterday, I'm going to wade into the murky waters of prediction once more.
On the one hand, it's a fool's errand trying to predict the BAFTA nods, as they can frequently be the most perverse and contrarian awards voters of the lot. On the other, they make the task a little easier for us pundits by releasing 15-strong longlists in each category ahead of the voting.
As I wrote back in November, the BAFTAs can be inconsistently parochial in their voting, frequently handing multiple nods to middlebrow homegrown product, while simultaneously sidelining the most acclaimed British films of the year. A look at this year's longlists confirms that trend, as relatively mediocre Brit flicks like "The Boy in the Striped Pyjamas," "Mamma Mia!" and "The Duchess" all received multiple mentions, while critical darlings "Hunger" and "Happy-Go-Lucky" landed in a paltry three categories each — Best Film not among them.
The BAFTA voters' provincialism is most shamefully evident in the Best Supporting Actress longlist, which features such bizarre inclusions as Judi Dench for "Quantum of Solace" and Rebecca Hall for her arm-candy role in "Frost/Nixon." As for the Best Adapted Screenplay citation for "Mamma Mia!," well, the less said the better. Of course, it's a mistake to read too much into these lists. The idle frequency with which certain titles pop up — "Frost/Nixon" and "The Curious Case of Benjamin Button" lead with 14 mentions each, but more surprisingly, a lightweight contender like "Burn After Reading" managed a staggering 11 — suggests the voters weren't thinking too hard either.
Which films will fare best tomorrow is another matter — it's not uncommon for a film to feature strongly in the longlists only to go MIA on nomination morning. Below the cut are my best guesses, together with some thoughts on the top categories.
Best Film
"The Curious Case of Benjamin Button"
"The Dark Knight"
"Frost/Nixon"
"The Reader"
"Slumdog Millionaire"
Ever since they shifted their ceremony to before the Oscars nearly a decade ago, the BAFTAs have aligned more with the Academy's picks in the top category, so I'd look for at least four of the current Oscar favourites to feature here. "Milk" strikes me as a more Yank-centric piece of history that might miss with the Brits (as it did with the HFPA), and while "The Reader" hasn't been a resounding critical success over in the UK, BAFTA voters have previously shown an affinity for such literary, highbrow material.  
Best British Film
"Hunger"
"In Bruges"
"Mamma Mia!"
"Man on Wire"
"Slumdog Millionaire"
In an unusually competitive field this year, I'd bank on "Hunger," "In Bruges" (which makes a surprise appearance in the Best Film longlist) and "Slumdog" here, while I (regretfully) suspect the voters will be unable to resist congratulating the UK's all-time box-office champ in this race. For the final slot, I have a hunch "Happy-Go-Lucky" will be snubbed — it hasn't had a great awards ride in its home country — while the universally admired "Man on Wire" will surprise.
Best Director
David Fincher, "The Curious Case of Benjamin Button"
Christopher Nolan, "The Dark Knight"
Ron Howard, "Frost/Nixon"
Steve McQueen, "Hunger"
Danny Boyle, "Slumdog Millionaire"
I'm going on a very frail limb with Steve McQueen, considering he's the lone name on the Director longlist whose film isn't among the 15 mentioned in the top race. But the celebrated artist-turned-filmmaker has been one of the most discussed figures in the British cultural scene this year, so I'm counting on the more discerning voters to rally around him here, with McQueen emerging, Paul Greengrass style, as the hipsters' wild card.  
Best Actor
Michael Fassbender, "Hunger"
Frank Langella, "Frost/Nixon"
Dev Patel, "Slumdog Millionaire"
Sean Penn, "Milk"
Mickey Rourke, "The Wrestler"
Beyond the three locked-and-loaded Oscar contenders, I expect the BAFTAs to have a little fun in this category. As in the Director category, I think a passionate band of arthouse-oriented voters will push Fassbender across the line for his spectacular performance — moreover, his nomination for their Rising Star Award should raise his profile here. Patel, surprisingly, wasn't mentioned in that race, but his local TV profile and the all-round goodwill toward "Slumdog" could make him this year's Jamie Bell. 
Best Actress
Sally Hawkins, "Happy-Go-Lucky"
Kristin Scott Thomas, "I've Loved You So Long"
Meryl Streep, "Doubt"
Kate Winslet, "The Reader"
Kate Winslet, "Revolutionary Road"
I was expecting Streep to be the double nominee here, but the BAFTAs' promotion of Winslet to lead for "The Reader" complicates matters — I'm not sure voters will be so generous towards two thesps in one category. Beyond that, I expect ingenue Hawkins and acting royalty Scott Thomas to make this a very British race indeed — though with "Rachel Getting Married" still unreleased in the UK, it's hard to anticipate how voters will respond to America's sweetheart, Anne Hathaway.
Best Supporting Actor
Ralph Fiennes, "The Duchess"
Heath Ledger, "The Dark Knight"
Eddie Marsan, "Happy-Go-Lucky"
Peter O'Toole, "Dean Spanley"
Brad Pitt, "Burn After Reading"
I could be so wrong here, but the BAFTAs can often go their own way in the supporting categories. With three mentions in the longlist, I expect Fiennes to crop up for his most acclaimed performance (though I'd love to see him surprise with "In Bruges"). O'Toole is the kind of vet BAFTA members might vote for blindly — though his performance is actually strong. Meanwhile, "Burn After Reading" was a surprise hit with British audiences, so if it's to convert any of its longlist mentions, this is as good a place as any.
Best Supporting Actress
Penelope Cruz, "Vicky Cristina Barcelona"
Viola Davis, "Doubt"
Charlotte Rampling, "The Duchess"
Emma Thompson, "Brideshead Revisited"
Julie Walters, "Mamma Mia!"
Count on Brit-film royalty to join the two Oscar heavyweights here. Just as Judy Parfitt did in 2003, Rampling seems well-poised to nab an out-of-nowhere nomination for a regal, glorified cameo, while BAFTA favourite Thompson should benefit from being the single memorable feature of the misguided "Brideshead" remake. Finally, Walters has attained the kind of national treasure status that renders her beyond criticism — so the fact that she's absolutely appalling in "Mamma Mia!" is unlikely to deter voters one bit. 
Best Original Screenplay
"Happy-Go-Lucky"
"In Bruges"
"I've Loved You So Long"
"The Visitor"
"Waltz With Bashir"
A tricky category to call. I'm guessing Mike Leigh's stature alone will help "Happy-Go-Lucky," but I can't shake the sense that BAFTA voters don't much like the film. They tend to be generous towards foreign-language cinema here, so "I've Loved You So Long" (which surprisingly features in the Best Film and Best Director longlists) and "Waltz With Bashir" have a good shot. Finally, "The Visitor" may seem an off-base prediction, but Tom McCarthy pulled off a shocking win in this category with "The Station Agent" five years ago, and BAFTA may want to follow up on that.
Best Adapted Screenplay
"The Curious Case of Benjamin Button"
"Frost/Nixon"
"Persepolis"
"The Reader"
"Slumdog Millionaire"
A surprise nomination for "Casino Royale" in this category two years ago proved that BAFTA voters aren't snobbish about genre films, so it may be unwise to bet against "The Dark Knight." But as I said above, foreign films frequently find a home here, and "Persepolis," as well as being a unique writerly achievement, has a very passionate critical following here, so I'm betting it upsets the apple-cart.
Best Animated Feature 
"Persepolis"
"WALL-E"
"Waltz With Bashir"

Best Production Design
"Australia"
"The Curious Case of Benjamin Button"
"The Dark Knight"
"The Duchess"
"The Reader"
Best Cinematography
"The Curious Case of Benjamin Button"
"The Dark Knight"
"The Reader"
"Revolutionary Road"
"Slumdog Millionaire"
Best Costume Design
"Brideshead Revisited"
"The Curious Case of Benjamin Button"
"The Duchess"
"Mamma Mia!"
"The Reader"
Best Film Editing
"The Curious Case of Benjamin Button"
"The Dark Knight"
"Frost/Nixon"
"Man on Wire"
"Slumdog Millionaire"
Best Makeup & Hair
"The Curious Case of Benjamin Button"
"The Dark Knight"
"The Duchess"
"The Reader"
"Tropic Thunder"
Best Music
"The Curious Case of Benjamin Button"
"The Dark Knight"
"The Duchess"
"Mamma Mia!"
"Slumdog Millionaire"
Best Sound
"The Dark Knight"
"Mamma Mia!"
"Quantum of Solace"
"Slumdog Millionaire"
"WALL-E"
Best Visual Effects
"Australia"
"The Curious Case of Benjamin Button"
"The Dark Knight"
"Iron Man"
"Quantum of Solace"