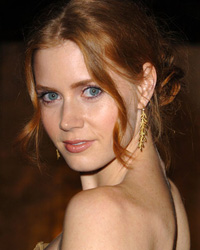 Amy Adams has arrived.  No "doubt" about it.
Sunday she was sitting at a table with Meryl Streep, Viola Davis and John Patrick Shanley at the Hollywood Foriegn Press Association's Golden Globe Awards where she was nominated for Best Supporting Actress, one of five nods the film received. Surrounded by major artists such as Ron Howard, Frank Langella, Steven Spielberg, Martin Scorsese, Brad Pitt, Angelina Jolie, Clint Eastwood, Kate Winslet, and so many others, she looked comfortable and right at home.
But seven years ago she was struggling to find work.  And the actress says she was ultimately stunned to land a plum role in a major film being directed by Steven Spielberg, two time Academy Award winning director and starring Leonardo DiCaprio.
"It's been fantastic," she explains by phone, "surreal, but I am loving it.  'Catch Me If You Can' was a huge break for me and Steven was just so generous as a director, so enthusiastic and positive all the time. Going to the set was a constant pleasure."
The actress says she is "trying to just experience things right now, to let them happen and see where we go with it — take everything as it comes to me."  She's somewhat overwhelmed by the attention she is getting these days. I liked Adams within seconds of speaking with her: soft-spoken yet talkative, forthright, honest, and modest.
For an actress who, in a very short time, has forged a solid reputation as one of the finest up-and-comers in the film business, Adams is spectacularly together, grounded, and incredibly self-aware. She seems genuinely grateful for the chances she has been given and the success she has had.  After 2002's "Catch," she earned an Oscar nomination and the National Society of Film Critics qward for Best Supporting Actress for her chatty pregnant southern belle in "Junebug," became a fairytale princess role model for young girls in the Disney smash hit "Enchanted," shared the screen with Tom Hanks in the Mike Nichols-directed "Charlie Wilson's War" and this year seems poised for a second Academy Award nomination as the gentle Sister James in "Doubt."
On the stage, the role of Sister James is more of a sounding board for the lead character, Sister Aloysius — played in the film by Meryl Streep — but something extraordinary happened with the film. The close-ups and the language of the cinema changed the fabric of the play and the director-writer John Patrick Shanley understood at once how to make the adaptation work. Sister James becomes the conscience of the film, the catalyst who sees the events (she thinks) that set the plot in motion, and who is stunned at the shocking chain of events that cause her to to challenge the opinion of her superior.
"John Patrick understood, instinctively, that the camera brought another dimension to the characters, a greater intimacy to the work," Adams says.  "He's a genius.  There's a part of me in there.  Positive and sweet, which we need in this life, with so much turmoil.  Sister James gives a voice to my vulnerability as she is somewhat untouched by the ugliness of the world. At the end of the film, she has already forgiven the Streep character, believing that God takes care of misdeeds. She feels compassion towards her superior even though she is appalled by her actions, but she will pray for her and support her."
Many of her scenes in the film are with Oscar winners Meryl Streep and Philip Seymour Hoffman. Knowing their reputation for seeking excellence in their work, it would be enough to unnerve any young actor.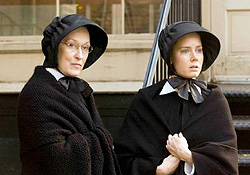 "The truth is everything in acting," she says, "and knowing that, Meryl and Philip believe that to be true we all started on the same page.  With Meryl, once you get past who she is and the enormous reputation that comes with her, no fault of hers, it is pure magic, though I confess to be intimidated sometimes.  But I found very quickly that she is wonderful on every level, generous and helpful, thinking only of the work and believing that we are all part of an ensemble."
Adams calls the famed actress "insightful, unselfish, constantly giving, and alive in every single take," clearly in awe of the two-time Oscar winner.
The final scene in the film is a climactic sort of back-and-forth between the actress.  Adams says they worked on the sequence for eight hours, and that every time, Streep was "alive and there" for her, and that she just never stopped working throughout the scene.  "It challenged me as an actor in a way I had not been challenged before," she says.  "Phil works the same way, and I learned so much from the two of them as they were just always there for each scene.  I learned so much on this film and though I hate to categorize my films, this was the most rewarding of my career. I cannot wait to put to use what I learned from the two of them!"
Adams gave a performance last year in Disney's "Enchanted" that some think should have brought her an Academy Award nomination. As Giselle, a 2-D character who is cast into modern day, live action New York City, Adams took the role by the reins without a shred of unease.  When her character becomes flesh and blood, the cartoon elements are still very much with her: the manner in which she moves, slightly larger than everyone else in the film, the manner in which she speaks, pure animation brought to life.
"I knew when I read the screenplay for 'Enchanted,' and I do not want this to sound arrogant, but I knew it was mine," she says of the role.  "I knew I could use my dancing and musical theater experience to bring Giselle to life, and I mean, come on, I'm a Disney freak, I was a 'Little Mermaid' kid!"
But did she expect to be a role model for little girls?
"It's daunting that, and I take it very seriously," she says.  "Knowing that these little girls are looking to Giselle to understand behavior and life — that is huge.  That film changed the course of my career and my life.  It was hugely impactful to do a family film, and it was so much fun."
I mention that my eight- and 16-year-old girls are sitting on the couch listening to the interview take place and she at once turns the topic of conversation towards them, asking about their likes and dislikes, telling me to say hi to each of them for her, which thrills them.
On January 22, Adams stands a strong chance of being nominated for another Academy Award for Best Supporting Actress.  The possibility causes her to giggle
"You know when that happened for me with 'Junebug,' it seemed so impossible, so out of the realm of my life, yet it happened," she says.  "I had just been released from a TV show, I wasn't feeling very good about my career, and then boom — things exploded and began happening very quickly."
When I tell her I think she is very likely to be nominated again, there is some silence at the other end for a second or two.
"Thank you John, I appreciate that," she says.  "But I'm rooting for Viola.  I mean was she not incredible?"
Indeed she is.  And obviously Amy Adams has learned that aforementioned lesson from Ms. Streep: every film is an ensemble.